The UK consumer organisation Which? has compared 16GB models of the best-selling smartphones on the market to discover a surprising disparity in the amount of usable storage space left for consumers.
Of the 16GB capacity of the iPhone 5C, Which? found that 12.60GB was available for storing apps, music and other media, while the 16GB Samsung Galaxy S4 had just 8.56GB of usable storage.
Much of the missing storage is taken up by the operating system. However, the second-ranked Google Nexus 5 (12.28GB) uses the same operating system as the Galaxy S4, and is made by the same company as the LG G2 (10.37GB), which came second bottom.
The reason for this is what many technology experts call "bloatware", the extra custom features that many manufacturers and mobile networks load on to a basic universally available system such as Android in order to differentiate their product from the competition. In the case of the Galaxy S4, features such as eye-tracking and music sharing, which don't always work well, are robbing customers of space.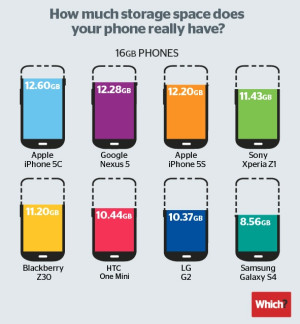 Which? points out that some phones, including the Galaxy S4, have memory that can be expanded inexpensively using MicroSD memory cards, thus compensating for the shortcomings of the standard phone. Apple's iPhones and Google's Nexus 5 have no memory card slots.
The problem has not gone unnoticed in Samsung's native South Korea, where the Ministry of Science, ICT and Future Planning on Friday ordered that all phones sold in the country from April must be capable of modification by the user. "The move aims to rectify an abnormal practice that causes inconvenience to smartphone users and causes unfair competition among industry players," the ministry said.
The new rule will not only apply to proprietary software pre-installed by makers and mobile providers, but to the operating system provider as well, in many cases Google.
Google has yet to react to the ruling, which could undermine the connected strategy at the heart of Android by allowing users to delete default Google apps.
The full Which? report on smartphones is available at the Which? website.