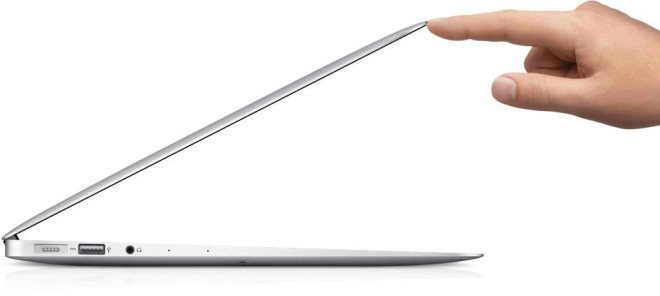 A new Macbook Air has been released by Apple today, boasting faster processors and lower prices.
The 2014 range now includes a 1.4GHz Core i5 Haswell chipset - compared to the 1.3GHz of previous models - and starts at £749, £100 cheaper than the 2013 range.
The improvements are only marginal upgrades from the previous range but the significant price cut is aimed at tempting buyers at the lower end of the laptop market, with even the top of the range model coming in at under £1000.
"With MacBook Air starting at £749, there's no reason to settle for anything less than a Mac," said Philip Schiller, Apple's senior vice president of Worldwide Marketing.
"Macs have never been more popular, and today we've boosted the performance and lowered the price of MacBook Air so even more people can experience the perfect everyday notebook."
The MacBook Air range laptops also feature up to 12 hours of battery life, fast flash storage, 802.11ac WiFi and Apple's iLife and iWork apps.
Last week, Apple announced better than expected quarterly revenues, despite a major drop in iPad sales.
The record revenues were helped by 5% sales gains in its Mac category, beating a marketwide PC sales slump of 4%. According to Apple, Mac computers have improved their market share in 31 of the last 32 quarters.