Apple Music: Unlimited streaming, Beats One radio, Connect - Everything you need to know about Spotify rival
Apple has entered the music streaming market with Apple Music, a service built on Beats Music to rival Spotify and which includes unlimited streaming, a new, 24-hour online radio station and a social network.
Announced in front of 6,000 developers at its Worldwide Developer Conference (WWDC) keynote in San Francisco, Apple's music-streaming service is part of an update to the iOS Music player for iPhone and iPad, and lets users stream an unlimited amount of music to their Mac or iOS device, as well as their PC and even Android smartphone.
Apple will bundle the streaming service with iOS 8.4, an update which will arrive on the iPhone and iPad in June; it will be available for Mac and PC through an iTunes software update this month, and also as an Android app later in the year.
Apple Music will costs $9.99 per month, or Apple will also offer a $14.99 family account which can be used by up to six people, each with their own Music account.

To try and lure in customers Apple will be offering a free three-month trial. The iPhone maker will not be offering a free versions supported by adverts, meaning there will be pressure on getting iTunes customers to pay up. IBTimes UK is waiting for information on UK pricing, but Apple said the service will launch in over 100 countries
Trent Reznor said in a promotional video for Apple Music that the philosophy of the service is to treat music "less like digital bits and more like the art that it is."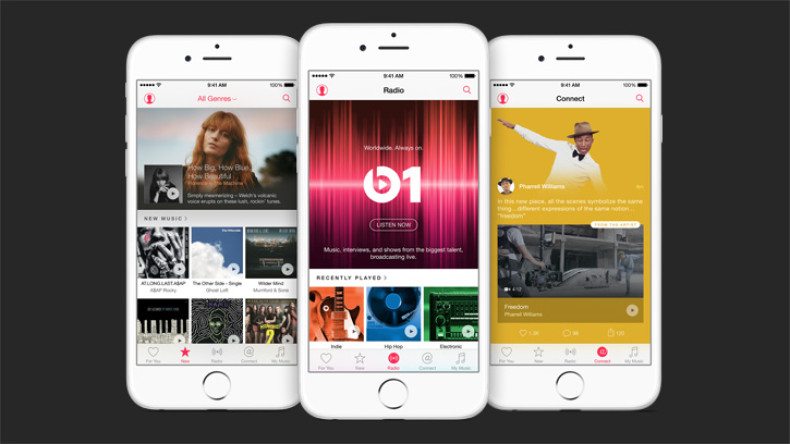 Find music with Siri
Siri integration means you can quickly finds tracks and artists, but also ask for the current charts, and even historical charts - ask for the best-selling song of 1982, for example, and Siri will start playing it immediately. You can also request music by saying "play the song from [a film or TV show]".
The new streaming service fits within the pre-existing iOS music app, so your purchased music can be searched alongside music offered on-demand. Of course, music can still be bought from the iTunes Store.
There's a new tab called For You which recommends music based on algorithms created by what you already own and listen to, but also music from playlists curated by humans based on genre or activity - such as a fast-paced playlist to use in the gym. Iovine says the app serves up "the right song, the right playlist at the right moment - all on demand."
Last to the streaming party - but Apple will be last to leave
Strategy Analytics analyst Mike Goodman said: "For once, Apple is later for this party but, with support from the big labels, it could be the last to leave."
Apple's timing may be spot-on, as in 2015 streaming is expected to account for 30% of total music revenue, compared to 46% for physical sales and 24% for digital downloads from places like the iTunes Store. Streaming revenue for 2015 is forecast by Strategy Analytics to be up by 21.1% on last year, compared to a 2.2% gain for digital downloads and a 8.5% decline for physical sales.
Of the $1.8 billion (£1.17bn) in revenue to be generated by streaming music services this year, an estimated 66% will be from paid subscriptions like Apple's, while just 34% will come from free, ad-supported alternatives.
Beats One - a new, live radio station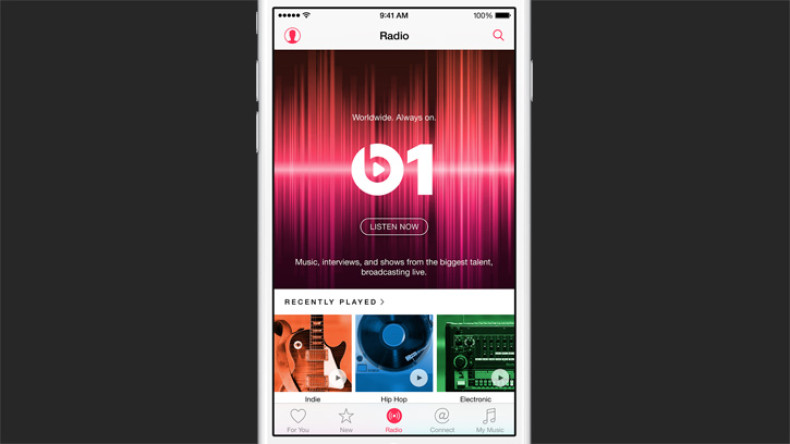 Beats One broadcasts online from from New York, Los Angeles and London, and Iovine described it as: "The first ever 24-hour, worldwide radio station...broadcast from three cities which plays music not based on research, or genre or drum beats - but only music that is great and feels great."
Former BBC Radio One DJ Zane Lowe has helped to create the Beats One station and promises it will be much more than just another station. "We have real music fans running this place...and incredible artists in the studio right now creating incredible radio shows that will blow your mind."
Connect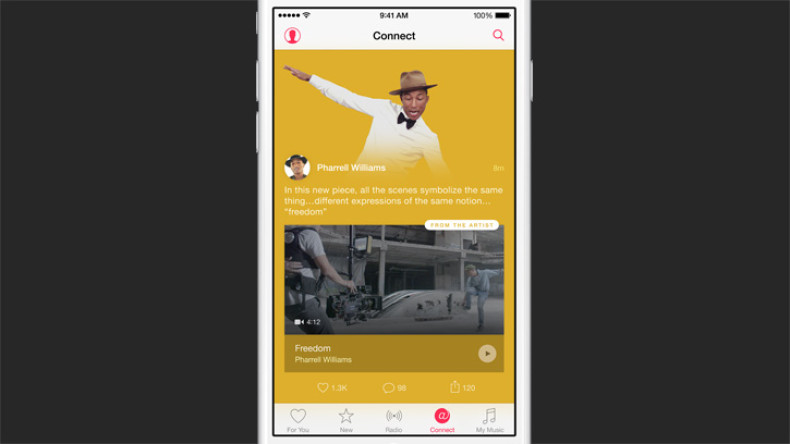 Apple describes Connect as "a fantastic way for established and new, unsigned artists to connect with music lovers everywhere...when you upload your music to Apple Music, anything can happen."
Connect is a place where artists can upload content for their fans to see and hear. An artist's profile page is a place to post images, videos and posts; rather than being a new social network, Connect integrates with Twitter, Instagram and Facebook, where Connect posts can be shared and liked.
Other content expected to be shared by artists on Connect includes footage of studio sets and other exclusive content. This is also a place where unsigned artists can be discovered.
'Apple's timing is ripe'
Goodman added: "The timing is ripe. The license deal the record labels were locked into with Spotify expire this year, so Apple's move gives the record labels much greater leverage in their negotiations. This is the chink in the dragon's armor that Apple can target."
He estimates Apple could grab a 9% slice of the £1 billion global music streaming market in 2016.
Andy Saxton, consumer retail analyst at Kantar Worldpanel, said: "There is definitely an appetite among iTunes users for this kind of service – over 20% of them already stream, compared to 14% on average. Yet with nearly three quarters currently using Spotify, the challenge for Apple will be to convert these consumers to its own platform.
"Apple has the unique advantage of direct access to nearly 15 million iOS devices, but if it looks to boost revenue by omitting the free platform offered by competitors then it risks limiting uptake, as only a quarter of streaming users currently pay for their subscriptions."
Spotify response
And what did Spotify CEO Daniel Ek think of Apple Music? Here is his response on Twitter (which has since been deleted):