Apple Event: As it Happened - iPad Air 2, iPad Mini 3 and Retina iMac Announced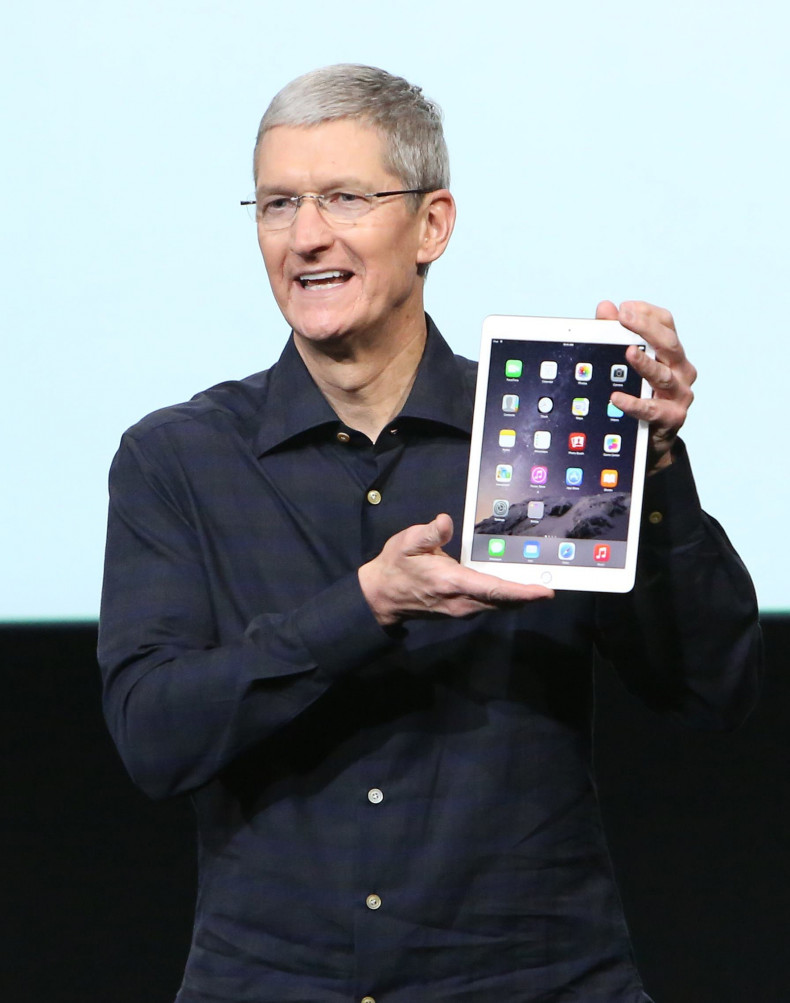 Confirmed:
iPad pricing drops below £200 for the first time
27in iMac with Retina 5K display costing £1999
Mac Mini refreshed costing from £399
7.30pm: That's it for me, but make sure to keep an eye on https://www.ibtimes.co.uk/technology for much more coverage of Apple's announcements.
7.25pm: So, no iPad Pro, Apple TV or 12in MacBook Air with Retina, but I guess something has to be kept for next year right?
7.22pm: 82 minutes later and we're done....pheww. I'll now recap evertything Apple has annonuced, in minute detail.....only joking
7.21pm: "We can do what no one else can do, create a simple, intuitive and magical experience..."
7.20pm: Tim in recap mode, must have been talking to Craig.
7.18pm: And that's it from Phil Shiller, time for Tim to come back.....but does he have any more to announce?
7.16pm: Mac Mini gets refreshed with powerful hardware but lower $499 price.
7.14pm: Price? Starting from $2499, joining previous 21.5in and 27in iMacs in Apple's line up.
7.13pm: New iMac is 45% faster than previous iMac, also comes with Fusion Drive and Thunderbolt 2x.
7.08pm: The engineers at Apple had to invent a substance to be able to create the new iMac, but for most people this level of detail is pointless. This is for video, graphics and design professionals only....or of course those sickeningly rich people who just want one....
7.07pm: World's highest resolution display. Called Retina 5K Display, the 27in display has a resolution of 5120 x 2880 pixels, giving a total of 14.7 million pixels which is seven times more pixels than a HD TV, and 67% more than a 4K TV.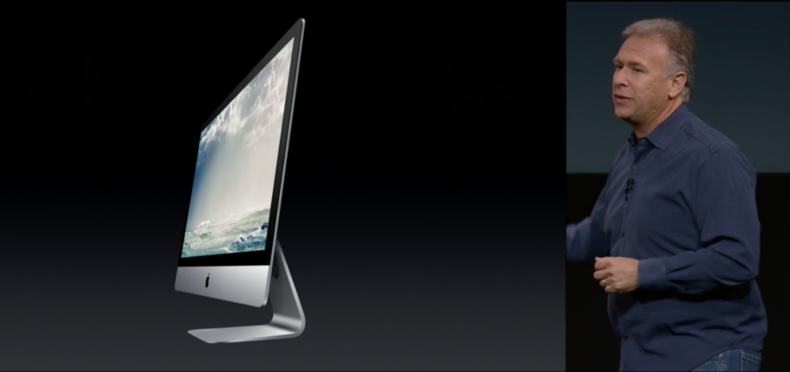 7.06pm: iMac with Retina Display confirmed
7.05pm: And we're done with iPads. Onto Macs.
7.02pm: Pre-orders tomorrow, on sale tomorrow week.
7.01pm: Woah, all the information at once.
iPad mini 3 confirmed with minor upgrades, including Touch ID. Prices remaining the same as iPad mini 2, but origianal iPad Mini drops in price to just $249.
7.00pm: So that's the iPad Air 2 - 6.1mm thin, better Retina screen, powerful A8X chip, new camera and Touch ID.
Cost?
$499 (16GB) - same as previous iPad Air
$599 (64GB) - $100 cheaper than iPad Air
$699 (128GB) - $100 cheaper than iPad Air
Cellular version available for $130 more.
6.58pm: Now onto demo of video app Replay. Apple focusing on multimedia with new iPad.
6.53pm: Demo time on the iPad Air 2 with Pixelmator image editing app
6.52pm: Touch ID confirmed for iPad Air 2 allowing you unlock your device, as well as using Apple Pay, though only for online payments, not in-store.
6.52pm: As well as being more powerful, iPad Air 2 will have faster Wi-Fi AC support and up to 150Mbps downloads.
6.50pm: Phil Schiller says people's favourite feature of thier iPads is the camera. Really? Anyway, Apple has updated the camera significantly, with an 8 megapixel camera, 1080p video, burst mode, slo-mo and timelapse.
Demo video taken in Venice shows George Clooney wedding passing by.
6.47pm: Here's how the new iPad Air 2 (or rather 2 of them) looks next to the original iPad: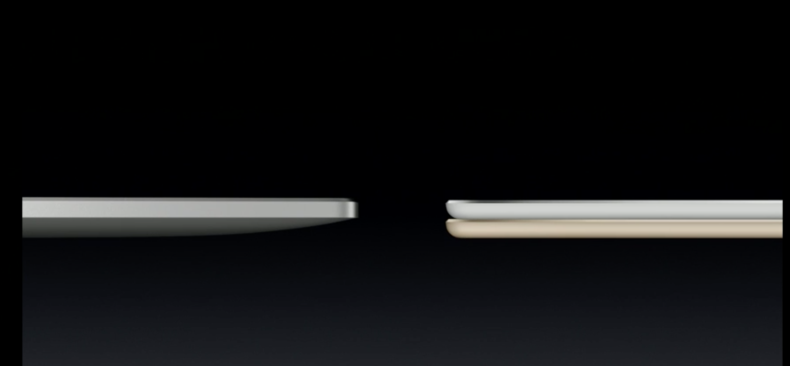 6.46pm: iPad Air 2 promising 10 hours of difference.
6.45pm: iPad Air 2 will come with A8X chip with second gen 64-bit architecture with 3 billion transistors. 40% faster GPU.
iPad Air 2 will have 12x faster CPU power and 180x graphics performance....giving graphics level performance.
6.43pm: iPad Air 2 is just 6.1mm thin, making it the world's thinnest tablet....that's pretty thin.
6.42pm: Phil Shiller now on stage to talk iPad Air 2.
6.41pm: Here we go. iPad Air 2 is thinner than the iPad Air...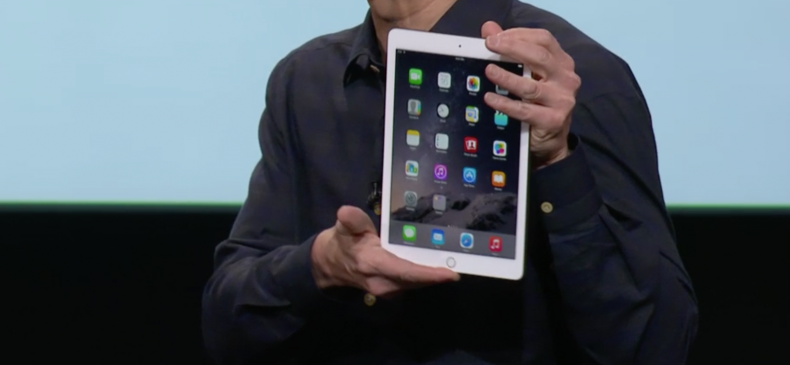 6.40pm: iPad Mini with Retina got 100% customer satisfaction....not much room for improvement there.
6.39pm: Tim back on stage talking iPad. 225 million iPads shipped so far, and outsold any PC manufacturers complete line up in last 12 months.
6.35pm: Finally, Mac OS X Yosemite available today for free from Mac App Store while iOS 8.1 will be released on Monday.
6.33pm: Just in case you were wondering, there is not new announcements in last few minutes.
6.32pm: Federighi is great at presenting. Natural and genuinely funny which is not very easy with these situations: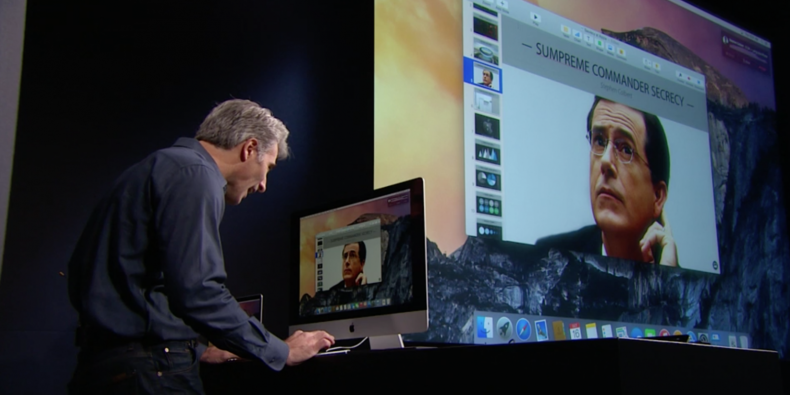 6.30pm: Craig Federighi now talking to Stephen Colbert, just as he spoke to Dr. Dre at WWDC, showing off the exact same feature
6.28pm: Lots of clapping for Craig's demos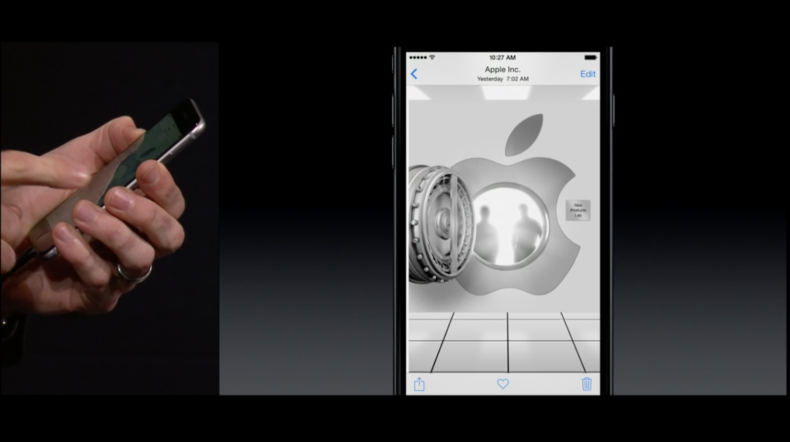 6.27pm: Speaking of continuity, I've been using Yosemite and iOS 8 for a month or so but had found it to be patchy at best, not "magical" like Criag claims. Now a demo....
6.26pm: Craig is talking about Apple devices talking to each other (Continuity), but it's Criag's hair that has caught a lot of attention:
6.25pm: Craig made a funny about Windows...
6.23pm: All people want to know is when the final version of Yosemite will be released, but Criag only seems to interested in giving us a recap.
6.21pm: Onto Mac OS X Yosemite....and Craig is back detailing all the things we know about Mac OS X Yosemite since it launched in June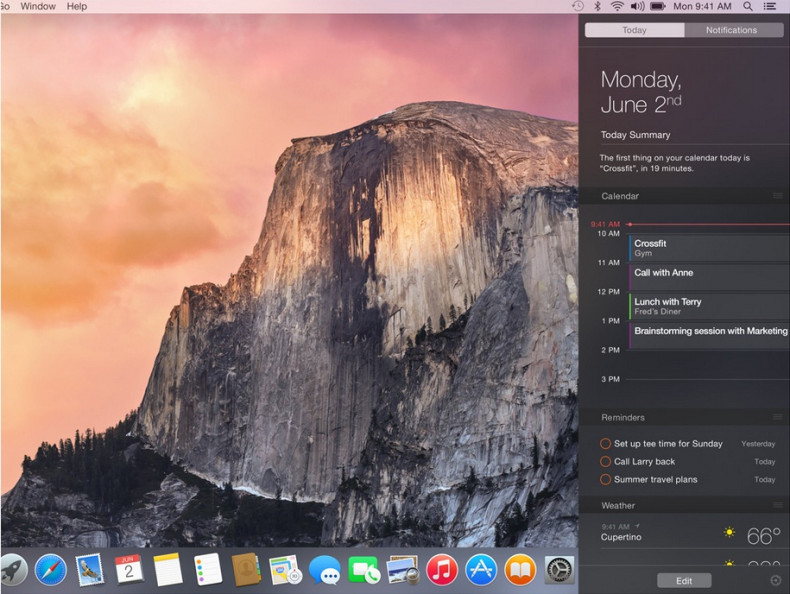 6.20pm: Finally, onto iOS 8.1. First addition, the camera roll is coming back....and that's about it....no really.
OK the beta of iCloud Photo Library is launching, which is a feature people have been looking for, for some time.
6.18pm: Yep, you guessed it, he's still talking about stuff we knew for months now. Seth Barton, editor of Expert Reviews sums up how we all feel I think
6.16pm: Yep, still more updates on iOS and how developers LOVE, LOVE, LOVE Apple's new software...
6.14pm: Craig now giving us a recap of the iOs 8 features
6.13pm: 48% of Apple iPhone or iPad users running iOS 8. Craig now talking about how Android is so far behind.
6.12pm: It's time for Craig Federighi to talk iOS 8 and Mac OS X Yosemite
6.11pm: Watch Kit announced to allow all developers create apps for Apple's wearable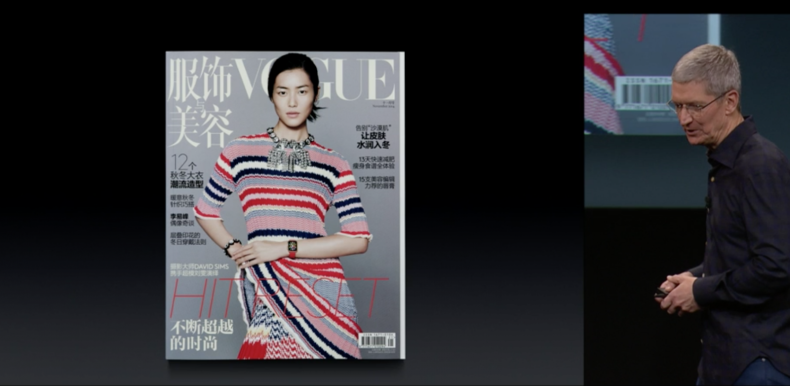 6.11pm: Tim now telling us how great everyone thinks Apple Watch is....
6.10pm: Apple Pay will go live on Monday, 20 October along with release of iOS 8.1
6.08pm: First mention of Beats...DRINK
6.07pm: 500 more banks signed up in the US since launch and many more retailers supporting it too.
6.06pm: Now onto Apple Pay which Apple says is going to be "profound"
6.05pm: Fastest-selling iPhones in history. first 30 days set a record for most orders taken "not by a little, but by a lot, a whole lot" But no specific figures...
6.03pm: It's been an incredible year and no other place on earth to be apparently than in store on iPhone 6 launch day...hmmm
6.02pm: And we're off with a video of iPhone buyers....and here's Tim
6.01pm: So either the stream has died again or Apple has stopped the music prematurely...
6pm: WHERE'S TIM COOK???
5.58pm: Change up in the tempo of the music, now onto the foot-stomping Love Runs Out by OneRepublic
5.57pm: For those looking to watch the event on Windows and using VLC, then you will need this link: http://p.events-delivery.apple.com.edgesuite.net/14pounqefvoiubefvpiub10/m3u8/atv_mvp.m3u8
5.55pm: Apple's live stream is up and running and - for now at least - it's working.
https://www.apple.com/apple-events/
5.50pm: Tim Cook sounds relaxed - though he could be laughing at all the attention a tiny iPad refresh is getting....
5.46pm: Less than 15 minutes till Tim Cook takes the stage and with the Apple Store down, everything is set. a quick nip to the bathroom en masse for Team IBT and we'll be right back.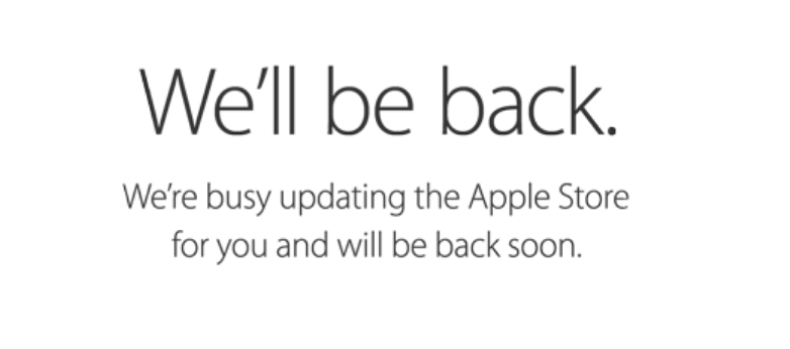 5.45pm: Apple events at its headquarters - if nothing else - give the public a look at the secretive complex:
5.37pm: Apple is piping "inoffensive sock rock" according to TrustedReviews editor Evan Kypreos, into the auditoriums ahead of the event kicking off, and while we don't know which artist it is exactly, the fact it is inoffensive surely means it is not U2....
5.33pm: Looking away from hardware for a moment, Apple is also set to update us on its desktop and mobile operating systems.
Mac OS X Yosemite which was detailed at WWDC in June, will likely get a release date for the public while Apple will also detail a release schedule for iOS 8.1, which will enable Apple Pay - at least in the US.
5.31pm: As IDC research director Francisco Jeronimo points out the worldwide tablet market grew by 8% year-on-year but Apple's iPad shipments declined by 9%. In total tablet shipments numbered 47 million units and was worth $14.4 billion (£9bn)
5.30pm: 30 MINUTE COUNTDOWN KLAXON...
5.25pm:
5.23pm: As journalists begin to file into the live event in Cupertino (and a live stream event in Berlin) we here at IBTimes Towers in Canary Wharf are brewing up a cup of tea....just in case you were wondering.
5.15pm: Those leaks appeared on Apple's iTunes store, shortly after Google made a big announcement yesterday with the launch of the new Nexus 9 tablet, Nexus 6 smartphone and Android OS 5.0 (Lollipop)
The leaks reveal what may be in store for Apple's new line of iPads and confirm rumours that both devices will now include Touch ID fingerprint sensor. Apple's leaks certainly stole some of Google's thunder and may well even be a red herring. 45 minutes until we find out.
5.11pm: Less than an hour to go now - let's take a look at the 'accidental' leaks that emerged last night: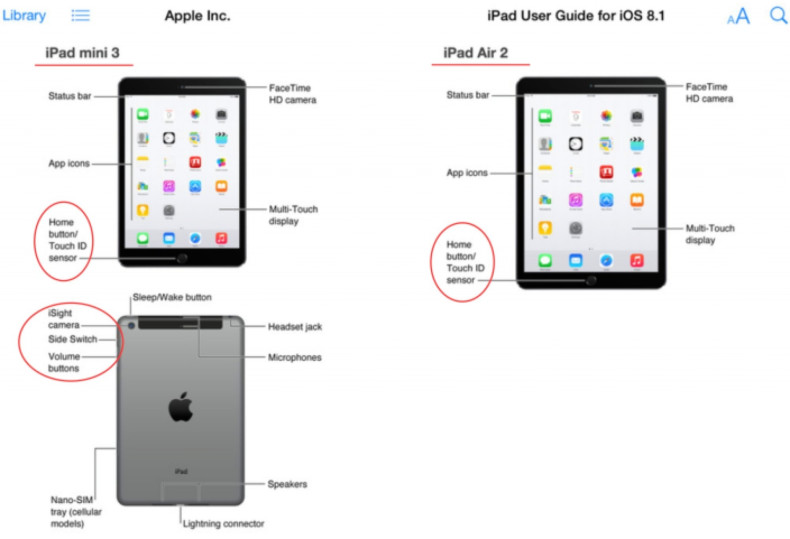 4.45pm: With the iPad Air 2 and iPad mini 3 being announced today, they will both likely go on pre-order from tomorrow (again probably at the same price as the current models) with sales beginning on Friday 24, October.
4.35pm: Apple is providing a live video stream of the event, but only for those of us using Macs, iPhones or iPads.
However, there is a way to watch on Windows and on Android, and you can find all the details here.
4.30pm: 90 minutes to go and to say there is slightly less excitement surrounding this announcement compared to the iPhone 6 announcement on the 9 September is an understatement.
4.24pm: Seth Weintraub, founder and CEO of major Apple blog 9to5Mac is clearly not too excited about today's announcements:
4.23pm: Finally, and possibly most intriguingly is Apple TV. For years Apple viewed its set-top box as a hobby but recent hires and many rumours suggest Apple is working on a major update to its platform - though those expecting a full on Apple television set [yes we're looking at you Gene Munster] shouldn't get too excited.
Once again, analysts are predicting the Apple TV refresh won't come until 2015.
4.16pm: The second possible surprise today would be the much fabled 12in MacBook Air with a Retina display. Apple is widely tipped to be working on a new MacBook which will be thinner and lighter than the current 11in MacBook Air but feature a larger screen and higher resolution display.
Again, supply chain sources and analysts agree than this laptop is not coming until 2015, but just like the iPad Pro, it could make an appearance on stage today.
4.14pm: Before we go on to the next possible trick up Apple's sleeve, here's what the company's headquarters looks like today: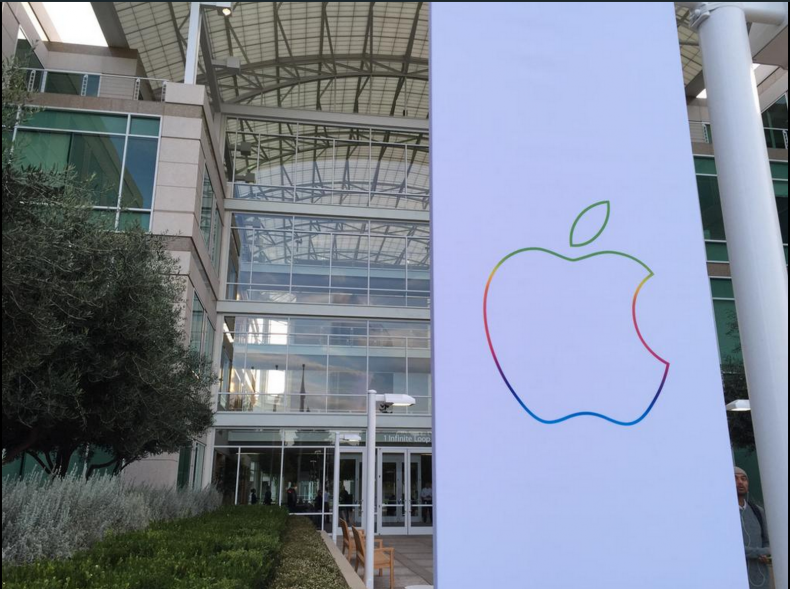 4.06pm: The first possible rabbit Apple could pull from its hat is a 12.9in iPad which the company is said to be developing along with a detachable keyboard cover (a la the Surface tablets).
Dubbed the iPad Pro the tablet is said to address the education and enterprise sectors directly, both of which Apple has clearly marked as areas for potential growth in a saturated market.
Most analysts however don't expect this product to go on sale until 2015, however like the Apple Watch, the company could be ready to give us a glimpse at today's event.
4.05pm: So the iPad refresh may not be that exciting and while for some a Retina 4K iMac will be about as good as it gets, for most of us, what we really want is to be surprised, and there are potentially three big surprises which could happen today.
[Note: I am aware of the fact predicting a surprise means it's not really a surprise, but, well, so what...]
4.00pm: TWO HOUR COUNTDOWN KLAXON...
3.53pm: Aside from the obvious and now confirmed iPad refresh, what is there today to get us excited about what Apple has to offer?
3.45pm: Journalists have begun to arrive at Apple's headquarters where today's announcement will take place, in the company's Town Hall auditorium:
3.39pm: Apple has said it has its most exciting ever roadmap of products in the pipeline, and following last month's launch of the iPhone 6 and iPhone 6 Plus, along with the unveiling of the Apple Watch, fans of the Cupertino company will be hoping for more than just an iPad refresh at today's event.
3.35pm: Ahead of the announcement tonight, Apple was rather indiscreet when it published an update to the iOS 8.1 iPad user guide with details of the iPad Air 2 and iPad Mini 3.
The error confirmed what many had suspected anyway, that both new tablets would feature Touch ID, allowing them take advantage of Apple Pay, along with a new burst camera mode.
Not much in the way of an upgrade some might think.
3.30pm: Someone is certainly looking forward to kicking things off later on:
3.26pm: Don't worry we're still here. Just trying to get everything set up before things really kick off in a few hours.
3pm: With three hours to go, we're here with coffee, chocolate, excitement and whole load of enthusiasm ahead of the Apple iPad event kicking off in three hours time. Expect at least three out of those four to disappear by the time Tim Cook takes the stage.
In the next three hours we will be covering what is expected from Apple, analysing the current state of the tablet market, looking at Apple's growing competition in the area from Android and of course adding comments, tweets and musings from our team covering the event as well as from you, the public, whose opinions matter so much to us.
For now, here's the full preview of the event and how to watch the event via Apple's livestream:
https://www.ibtimes.co.uk/apple-pay-ios-8-1-launch-same-date-20-october-1470419