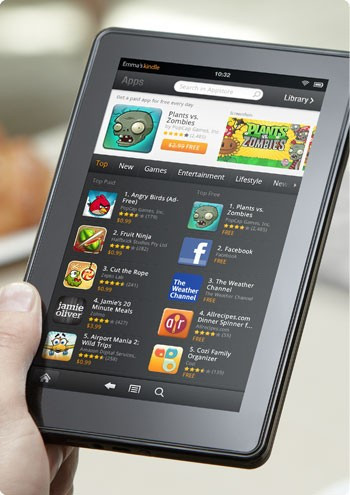 Apple is believed to be releasing a smaller, 7.85-inch iPad toward the end of next year to compete against the increasingly popular Amazon Kindle Fire.
Digitimes, a Web site with many well-placed sources in the industry, published a report that a smaller iPad will be announced in the fourth quarter of 2012.
"Apple is likely to launch a 7.85-inch iPad prior to the fourth quarter of 2012 in addition to a new iPad scheduled to be released at the end of the first quarter, according to sources in the supply chain," Digitimes said.
A smaller iPad would put Apple in direct competition with Amazon and its incredibly popular Kindle Fire. Priced at $199 in the United States, the Fire is considerably cheaper than the $499 iPad and has a smaller screen with the focus on downloading and consuming media.
Although the Kindle Fire is currently available only in the U.S., it has proved very popular, with pre-order demand so high Amazon had to produce an extra million before it even went on sale.
Digitimes believes that Apple has been forced to produce a smaller iPad in order to compete with the Kindle Fire.
"In order to cope with increasing market competition including the 7-inch Kindle Fire from Amazon and the launch of large-size smartphones [like the Samsung Galaxy Note], Apple has been persuaded into the development of 7.85-inch iPads, the sources indicate."
Apple is widely tipped to be announcing the iPad 3 - featuring a super-high resolution retina display and A6 processor - next month, with a predicted launch date of March or April.
Rumours earlier this year indicated that Apple may announce an iPad Mini alongside the iPad 3.