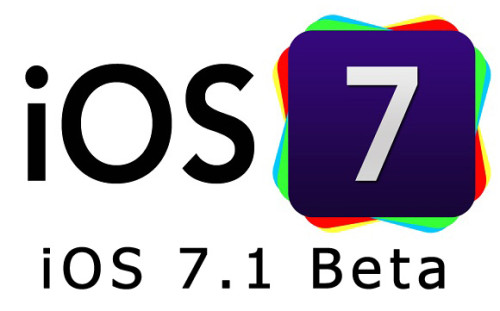 Apple has recently released the third beta iteration of iOS 7.1 with the build number "11D5127c" via its iOS developer program, which follows the beta 2 release on 13 December. The new beta release brings a handful of UI tweaks, bug-fixes and minor feature changes.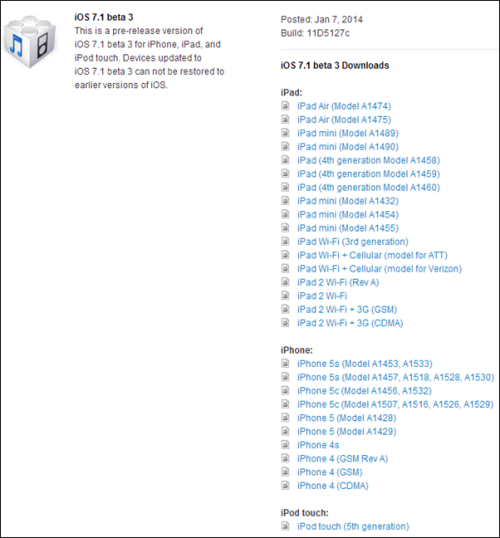 The bug-fixes ported into the beta 3 release include fixes for iCloud account creation and general playback issues with audio books, according to Apple Insider. The bug-fix beta update for iOS 7.1 is now available for download via Apple's developer website as well as Over-The-Air (OTA) on all test devices reserved for developer use.
The beta 3 release reportedly fixes an issue arising during the setup of a new iCloud account creation, besides fixing an error with iCloud Keychain enabling. Another key fix in iOS 7.1 involves an issue with listening to audiobooks on an iPhone, iPad or iPod touch.
The iOS 7.1 update is not yet ready for public release, as sources close to Apple have revealed that a handful of bugs still remain. For instance, 32-bit Bluetooth applications are not fully functional on 64-bit devices, like the iPhone 5s or latest iPads.
An error with Messages app has been identified which states "iMessage send failure" immediately after sending a message. Nevertheless, a workaround for this issue is to tap the error icon to re-send the message.
Some of the key feature changes and improvements ported to the new iOS 7.1 beta 3 update are given below:
UI tweaks for Power off and phone call features
New circular buttons for phone app with minor tweaks to dialer
A new option to turn-off parallax in wallpapers
Colour changes to a darker tone for Messages, Phone and FaceTime icons
A new accessibility setting "Reduce White Point" appears under General > Accessibility > Reduce Motion, which will help in reducing screen brightness
A new button features on the iTunes Radio home page to create a new station
Discover fine changes to the keyboard app, as the font gets bolder with minor tweaks to shift and delete buttons. A slightly lighter shade of keyboard background than in iOS 7 makes the text more legible and easier to read.
Shuffle and repeat buttons in the Music app get a revamp with a dark background colour.
The iOS 7.1 beta 3 update is available for download on the following iOS devices:
iPhone 5s, iPhone 5c, iPhone 5, iPhone 4S, iPhone 4
iPad Air, iPad mini, iPad 4, iPad 3, iPad 2 and iPad mini
iPod touch 5G
NOTE: Those who are already running iOS 7.1 beta on their device can update to beta 3 Over-The-Air (OTA), while others can download and install iOS 7.1 beta 3 from iOS Dev Center or manually using the direct download-links below.
In related news, iH8sn0w tweets that the new beta 3 release of iOS 7.1 expires on Monday, 10 February.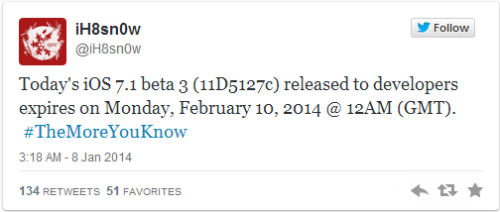 So, those who want to take a quick glance at the changes introduced into Apple's newest mobile operating system can download the same from iOS Dev Center or the links below.
Here are the direct download links for iOS 7.1 beta 3 for registered developers:
iPad:
iPhone:
iPod touch:
Pre-requisites
Ensure that you have backed up important data and settings on your device before updating to iOS 7.1 beta 3 release.
Also, download and install the latest version of iTunes from here.
This tutorial is only for Apple Authorised developers. Non developers are advised not to try this beta update on their device as it may brick the device.
How to Install iOS 7.1 Beta 3 on iPhone, iPad or iPod Touch via Registered UDID or Developer Account
Step 1: Download the iOS 7.1 beta 3 file.
Step 2: Connect the device to your computer, open iTunes and choose "Restore Your iPhone/iPad" after selecting the iOS 7.1 beta 3 file that ends with ".ipsw".
- If you are on Mac hold alt/option when you click "Restore".
- On Windows, hold Shift when you click "Restore".
Ensure that the device is connected to power during the installation. Once the entire process is complete, the device may reboot a couple of times.
Also Read: Unofficial Evasi0n7 Released: How to Jailbreak iOS 7.1 Beta 3 Untethered on iPhone, iPad and iPod Touch [VIDEO]