Apple has just rolled out its latest bug-fix and maintenance update, iOS 7.0.5, for select models of iPhone 5s and iPhone 5c. The new iOS update is a follow-up release to iOS 7.0.4 that was released just a couple of months ago.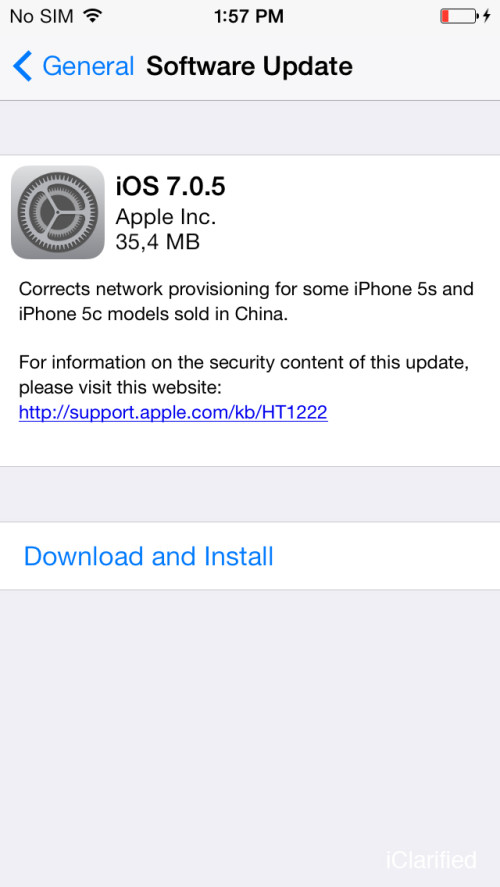 According to the changelog, the iOS 7.0.5 update corrects network provisioning for some iPhone 5s and iPhone 5c models sold in China.
As iPhone Hacks reports, the update also supports UK, Europe and Asia-Pacific models of iPhone 5s and 5c that are compatible with Chinese networks. However, there is no support for iPad or iPod touch.
Compatible Devices or Models
Here is the complete list of supported devices or models for this update:
a) iPhone 5s
A1457 (UK/Europe)
A1528 (China)
A1530 (Asia Pacific)
b) iPhone 5c
A1507 (UK/Europe)
A1526 (China)
A1529 (Asia Pacific)
Discerning jailbreakers have been forewarned to avoid updating to iOS 7.0.5 until further notice from the evad3rs. It is still unclear if it is safe for jailbreakers to install the new iOS update, though it has been tested to work with modified, unofficial versions of evasi0n7 tool.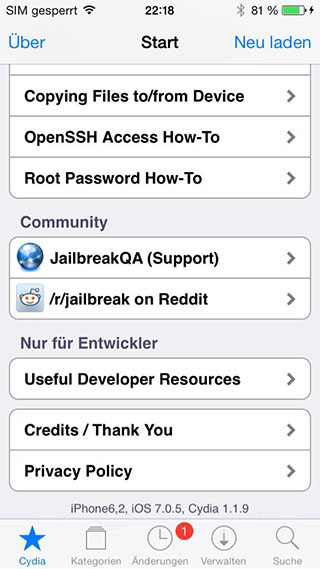 i0n1c (aka Stefan Esser) has confirmed via Twitter that iOS 7.0.5 is still jailbreakable using modified version of evasi0n7 tool:
"To make evasi0n work with iOS 7.0.5 one way is to patch 11B511 into 11B601 in the binary. Ehmm btw... the patch are not hex bytes but simple ASCII iOS build numbers that need to be fixed."
On the contrary, here is what MuscleNerd (member of evad3rs Dream Team) tweets to warn jailbreakers about the new update: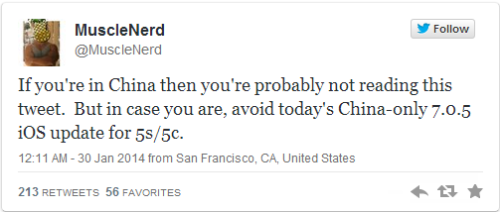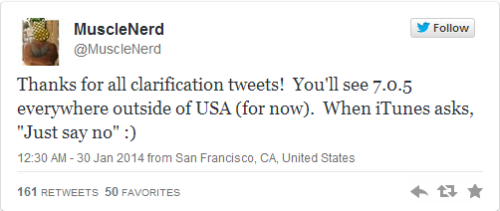 Nevertheless, interested users can go ahead and install the bug-fix update by navigating to Settings > General > Software Update or by connecting their device via iTunes.
There have been several reports of iOS users receiving this update via Over-The-Air (OTA) in Germany, UK and Croatia, besides China. So, those who are eager to explore the performance improvements and bug-fixes ported into the new iOS 7.0.5 update can download the same manually from the following links:
Though it seems that Apple has not yet patched the existing exploits used by evasi0n7 in iOS 7.0.5, it is likely that the next major update iOS 7.1 which is due in March, might just kill evasi0n7.
Not to mention, Apple has a known track record for leaving exploits untouched with minor updates, while patching them up in a major public release.