The jailbreak community recently complained of status bar issues with jailbroken iOS 7 devices, wherein the status bar turns black and refuses to vanish in stock apps like Camera, Photos, Weather and Calculator.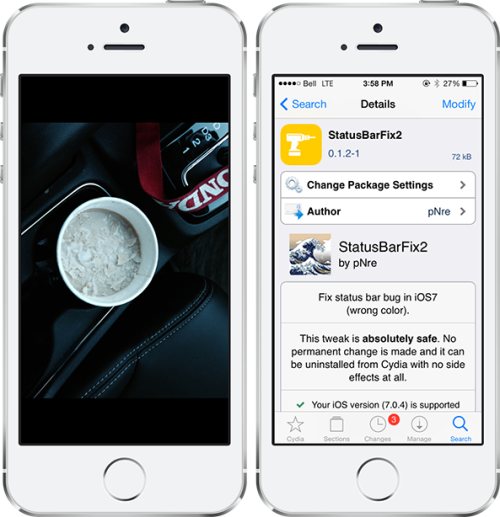 The status bar bug is reportedly caused by Cydia moving the location of stock apps, which can now be fixed with the help of a new bug-fix, StatusBarFix2. The bug-fix is a Substrate-based extension and apparently safe for installing/uninstalling from Cydia as it does not affect the iOS file-system.
The Status Bar bug-fix developer, pNre, suggests additional troubleshooting steps if the bug-fix fails to resolve the issue. The necessary steps to fix the issue are listed below:
Open the app (for instance Stocks).
Connect via SSH to your device.
Run the following command (in the SSH shell): killall -9 Stocks (if the app is Stocks)
Now the Stocks app closes
Relaunch the Stocks app and the issue should be resolved
With an estimated download count of more than 25,000, the StatusBarFix2 tweak is compatible with all devices running iOS 7.0 through iOS 7.1 beta 3. This tweak can be downloaded exclusively from repo.pnre.co.vu by adding the URL to your Cydia sources as follows: Select Manage > Sources > Edit and then hit Add.
The bug-fix package is a free download whose source code can be obtained from GitHub. For more information visit the reddit forum post by pNre here
[Source: iDownloadBlog]