The Apple Watch Series 2 comes two years after the launch of its predecessor. Whereas the original device was seen mainly as a high-tech fashion accessory, Series 2 comes with additional fitness features to help it compete with other activity-tracking wearables from companies like Samsung, Garmin and Motorola.
The Apple Watch Series 2 will begin shipping alongside the iPhone 7 and 7 Plus on 16 September. Besides the fact that the Watch 2 will let you play Pokemon Go on your smartwatch, there are one or two prominent differences between the latest device and its 2014 counterpart.
To help you make an informed decision on which device is best for you, IBTimes UK has compiled a specs comparison detailing the main differences between the Apple Watch 1 and Apple Watch Series 2.
| | | |
| --- | --- | --- |
| Specifications | Apple Watch | Apple Watch 2 |
| Screen Size | 38mm and 42mm dials | 38mm and 42mm dials |
| Display Resolution | OLED Retina display with Force Touch (450 nits)272 X 340 pixels for 38mm model and 312 X 390 pixels for 42mm model | OLED Retina display with Force Touch (1000nits)272 X 340 pixels for 38mm model and 312 X 390 pixels for 42mm model |
| Dial Shape | Square | Square |
| Weight | 50g | 52.4g |
| Protection material | Ion-X glass (strengthened glass) | Sapphire crystal for stainless steel and ceramic models, Ion-X glass for aluminium model |
| Processor | S1P dual-core processor | S2 dual-core processor |
| 2G/3G/4G | No | No |
| Storage | 8GB | N/A |
| OS | WatchOS 1.0, upgradable to v2.2, planned upgrade to v3.0 | WatchOS 3 |
| Battery | 250mAh Lithium–ion, up to 22hrs | Lithium–ion, up to 18 hours |
| Accelerometer | Yes | Yes |
| Gyroscope | Yes | Yes |
| GPS Sensor | No | Yes |
| Heart Rate Sensor | Yes | Yes |
| Wi-Fi | Yes (802.11 b/g/n, 2.4GHz) | Yes (802.11b/g/n, 2.4GHz) |
| Bluetooth | Yes (v4.0) | Yes (v4.0) |
| NFC | Yes | Yes |
| Water resistance | IPX7 water-resistant up to 1m for 30mins | Water-resistant up to 50m |
| Price | From £269 | From £369 |
While both smartwatches look very similar, as you can see from the above chart the Series 2 has seen a few upgrades. The inclusion of a GPS sensor means you can use the watch as a fitness tracker without having to take your iPhone along with you on a run, and it'll still be able to accurately record metrics like steps taken, distance, pace and speed.
The Apple Watch 2 is also more suitable for those who prefer waterborne activities. While the original Apple Watch is certified as being splash-resistant, the Watch 2 is water-resistant up to 50m, meaning you can wear it while swimming.
The Watch 2 is powered by Apple's new dual-core S2 chip, which the company claims is 50% faster than the S1 chip found in the Watch 1. There is also a new graphics processor with twice the performance of the original Watch, meaning it can run more graphically-advanced apps.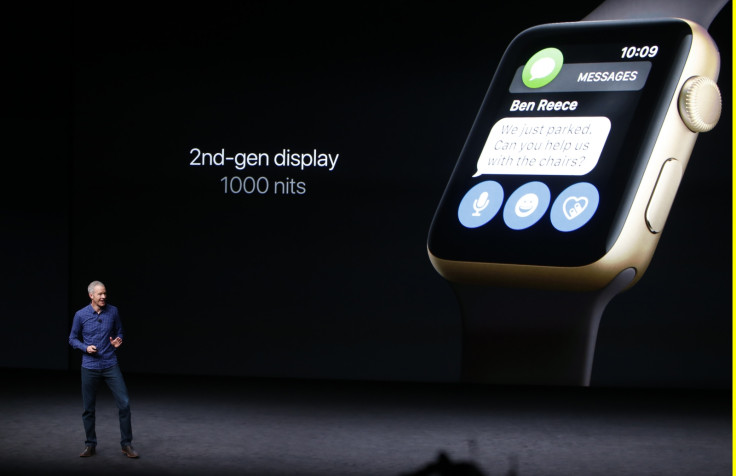 The Watch 1 and Watch 2 feature identical displays in terms of size and resolution, however, Apple claims the screen on its newest smartwatch is twice as bright at 1000 nits, compared to the 450 nits offered by the Apple Watch 1. This means it'll be easier to view the device's display outdoors.
It's worth noting that the Apple Watch 2 has a battery life expectancy of 18hrs, compared to 22hrs of power provided by the Apple Watch 1. This may well be due to the brighter screen and the inclusion of GPS, both of which require extra battery power.
The Watch Series 2 will open for pre-orders on 9 September and is available in two sizes (38mm and 42mm, as before) in gold, rose gold, silver and space grey. Prices start at £369, making it £100 more expensive than its predecessor.
Should you upgrade?
If you'd like to ditch your iPhone but still be able to take advantage of the Apple Watch's fitness-tracking capabilities, the Watch Series 2 is a tempting proposition. The fact that it's water-resistant makes it more life-proof, as well as a viable option for swimmers. A brighter screen is also going to make the device easier to read on sunny days – although admittedly that's not going to be too much of a problem in the UK.
It really all comes down to how much you're willing to spend on those extra features. At £369 the Apple Watch 2 isn't exactly cheap, and whether or not there's enough included to justify the upgrade is a matter of opinion. On the other hand, if you skipped the first device entirely but are still hankering for an Apple-made timepiece, there should be enough here to make the investment worth it.