Smartwatch sales have tumbled by more than 50% in the last 12 months, with Apple and Motorola suffering the biggest losses.
Global sales of the Apple Watch fell by 71.6% in the third quarter of 2016, compared to the same quarter in 2015. Sales of the Moto G smartwatch range, launched by Motorola, which has since been taken over by Lenovo, collapsed by 73.3%.
According to data published by the International Data Corporation (IDC), Samsung also had a tough year, with smartwatch sales growing by just 9%. Meanwhile Pebble, arguably the founding father of the modern smartwatch, saw a 54.1% fall in sales.
Only Garmin, which produces satellite navigation systems, sports watches and smartwatches among other products, saw gains between the third quarters. Sales there grew by 324.2%, up from around 100,000 in 2015 to over 600,000 in 2016.
By comparison, Apple Watch sales fell from 3.9 million to 1.1 million, while Samsung, which sells the ageing Gear S2, saw sales stay below the 500,000 barrier. An 'other' category, including niche smartwatches like the Tag Heuer Connected, fell 27.2% from around 600,000 to 500,000 global sales over the three-month period.
IDC found some consolation for Apple, pointing out that the third quarter of 2015 was when the Watch had overcome initial sales shortages, while by the end of the third quarter in 2016 the new Watch Series Two had only been on sale for two weeks. No matter, the iPhone maker has some serious catching up to do if it is to turn around its fortune.
Not for everyone
Jitesh Ubrani, a senior research analyst from IDC's Mobile Device Trackers division, said: "It has become evident that at present smartwatches are not for everyone. Having a clear purpose and use case is paramount, hence many vendors are focusing on fitness due to its simplicity."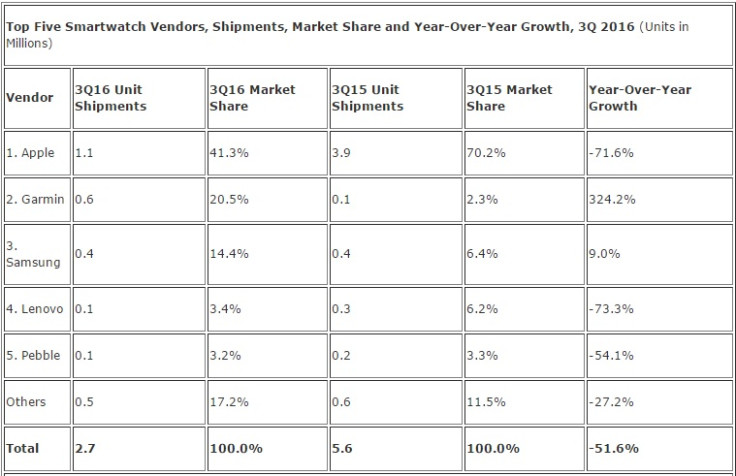 This is the direction taken by Apple, which is focusing its Watch more on fitness than fashion. There is now a dedicated Nike+ version, while the £10,000 gold-plated Watch Edition range, sold through exclusive department stores and fashion boutiques, is no more.
The sharp declines were also blamed on Google delaying the launch of its Android Wear 2.0 software, which several manufacturers will be looking to base their upcoming smartwatches on. Samsung's Gear S3, announced in early September, is also yet to go on sale.