Microsoft's PC legacy resurfaces, proving there's still life in the market for it yet
Its mobile phone experiment didn't work but its Surface brand is where the money's at.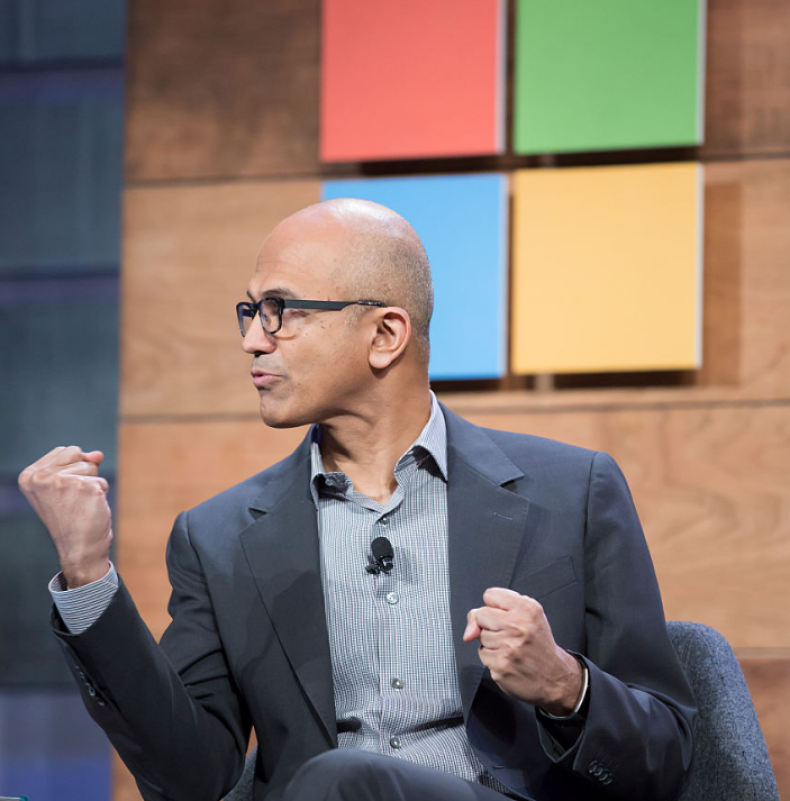 Microsoft is a company that has always been inextricably linked with the PC market. Bill Gates and Paul Allen founded the company back in 1975 and quickly came to dominate the personal computing market, first with MS-DOS and subsequently Windows.
However, in the last decade, as the PC market began to decline and smartphones began dominating, Microsoft tried to jump on the bandwagon by launching Windows Phone and spending $7bn on Nokia. This didn't work out very well and just three years after that acquisition the Lumia business is all but dead. In fact in last week's earnings, Microsoft stopped detailing Lumia sales for the first time.
Microsoft's acquired smartphone business may have fallen off a cliff, but its much more low-key attempt to become a significant player in the PC hardware market has been a much more positive story.
The Surface brand was launched back in 2012 by Microsoft, not as a challenge to Microsoft's partners like Lenovo, Acer and HP, but simply as an example of what Microsoft's software could do when paired with the right hardware.
Over the course of the last four years however, Surface has grown to become a significant contributor to Microsoft's bottom line. While revenue from cloud computing is where Microsoft will make most of its money in the future, Surface has the potential to continue growing.
In the chart below we can see how Surface revenues compare with those from smartphones, showing that as phones have disappeared, Surface has flourished: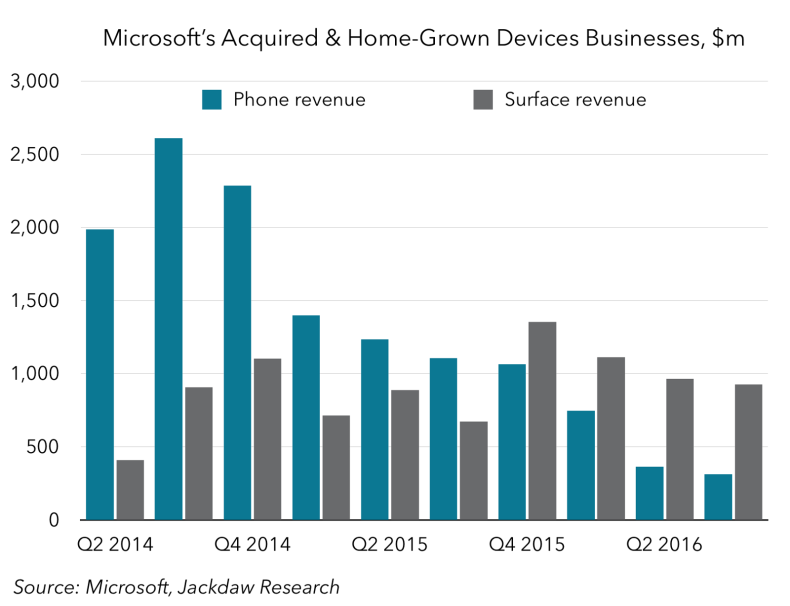 Another chart shows how Surface revenues (when annualised) are rising quarter-on-quarter.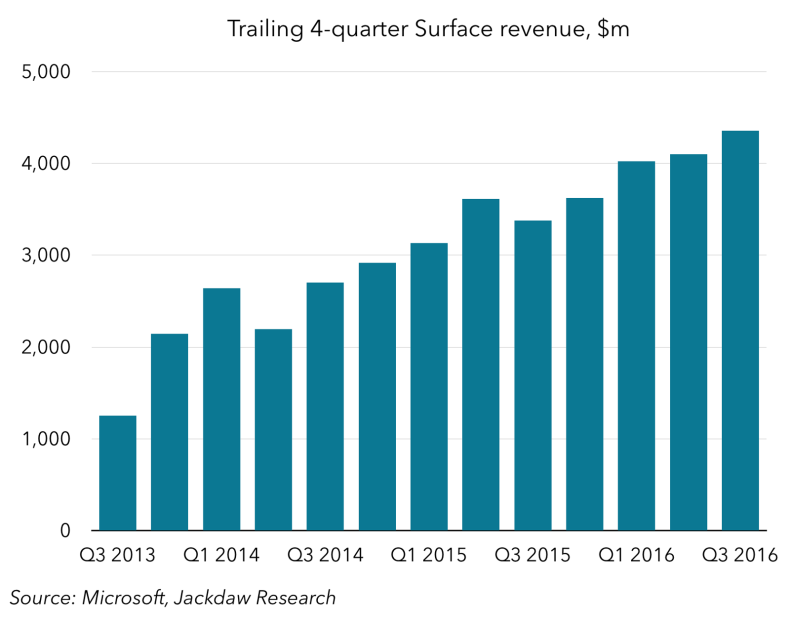 So this all looks great for Microsoft and suggests that it has carved a significant niche in the PC market at a time when the rest of the industry is on its knees.
However, a third chart gives us some context. When compared to the revenues from Apple's Mac and iPad divisions (because the Surface 2-in–1 tablet-laptop is competing with both) it is clear that Microsoft still has some catching up to do.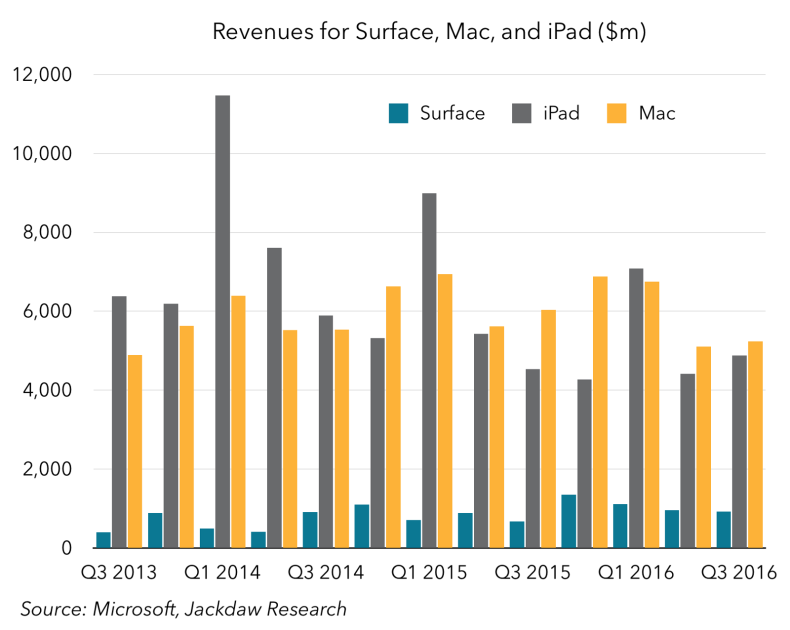 While this final chart may seem like Surface is only picking up the crumbs left by Apple, the fact is that Surface is a brand which is just four years old, compared to the storied legacy of the Mac brand in computing.
Microsoft has quickly and efficiently built a brand which is competing with Apple's hardware at the premium end of the market and which is now beginning to make in-roads into the lucrative enterprise market.
"We continually see the Surface brand rising in sentiment among consumers and, in particular, millennials," Ben Bajarin, principal analyst and the head of primary research at Creative Strategies said. "I have said this before — Macs are a dominant PC brand with the younger cohort and enterprises everywhere will tell you they can't hire millennials unless they offer or support Macs."
But according to Bajarin, the Redmond company is the only one which can compete with Apple at the premium end of the market from a brand perspective. "Microsoft is the only other brand besides Apple where we see strong sentiment and purchase intent from [millennials]. But Microsoft is strengthening their case in enterprise as well. They also are showing up on the IT menu of offered devices, much to the chagrin of their partners. Microsoft, with its 4th generation of products, is viewed as a credible maker of quality PCs and that is what is driving its upward trend."
Hitting the refresh button
Later this week Microsoft is widely expected to strengthen its position in the PC market when it launches a Surface-branded all-in-one PC. Details on exactly where it will be positioned (enterprise, gaming, entertainment etc) is unclear, but given the quality and innovation we have already seen from Panos Panay, who heads up the Surface team at Microsoft, the new products will be slick, sleek and aimed directly as a challenge to the iMac.
The company is not expected to launch new versions of its Surface Pro tablet range or its Surface Book laptop (though last year's models will probably get a boost in terms of new processors) which means that Surface revenues for the current quarter will likely take a dip compared to last year, a trend which could continue for the rest of the financial year if there are no new models.
Indeed Microsoft said as much in its earnings guidance last week: "We expect Surface revenue to decline as we anniversary the product launch from a year ago."
This raises questions about Microsoft's hardware division overall. "I suspect the minor refresh on the existing hardware combined with the push into a new, somewhat marginal, product category (all-in-ones) won't be enough to drive growth," Jan Dawson, chief analyst with Jackdaw Research said. "The question is whether the revenue line recovers in the New Year or whether we'll see a whole year of declines here — that, in turn, would depress overall hardware sales already shrinking from the phone collapse."
Microsoft's event next week comes a day before Apple is widely expected to launch updated MacBooks, which will once again be aimed at the premium end of the market. With both companies targeting the same demographic, it is important Microsoft offers something unique in order to continue growing its hardware division.
"My keys for both Apple and Microsoft [this week] is to show me they understand the customer they are going after and provide unique innovations for this group of people who still know and love their PCs because they use them for many hours every day," Bajarin said. "I want to see unique software for this form factor and how both will foster novel development of software from third parties for both their high-end PCs."
Gates and Allen founded Microsoft as a software company but as the world has become used to software updates being free, the company can no longer rely on revenues from Windows to grow the company. Satya Nadella, Microsoft's CEO, knows this and from the moment he took control from Steve Ballmer in 2014, he has worked quietly but assuredly to transform the company into one which is ready to face the challenging of a world where computing is a fluid, mobile and constantly changing environment. And Surface is an increasingly important part of that strategy.