The Apple Watch will be sold alongside five-figure Rolex and Cartier watches, fine jewellery, and exclusive Vertu smartphones - not in the technology section - when it goes on sale on 24 April.
On the ground floor and close to the main Oxford Street entrance of the famous department store, the Wonder Room is home to the world's most exclusive Swiss watchmakers, who will give way to a dedicated area selling the Apple Watch, including the gold Edition model. Priced between £8,000 and £13,500, the Watch Edition offers the same features as the £299 Watch Sport, but in a yellow or rose gold case.
Although the Apple Watch's presence in Selfridges currently extends no further than advertisements in the store's windows, a source familiar with how the Watch will be sold there told IBTimes UK that Watch will have its own area in the Wonder Room. They also explained how anyone wishing to try on the watch from 10 April can only do so with an appointment; watches from other companies, like Rolex, can be tried on by any visitor without an appointment.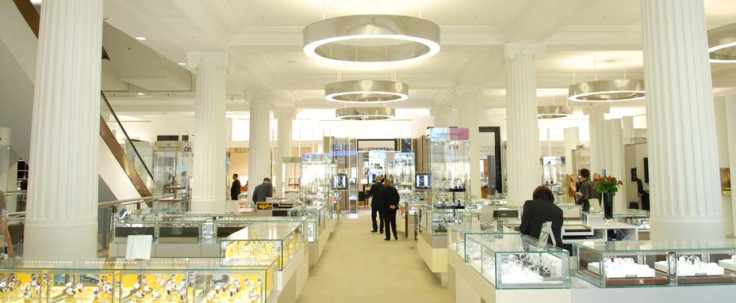 Days of the Apple Store queues are over
Starting 10 April, 400 Apple Stores around the world will begin taking pre-orders for the watch, and allow interested visitors to try it on, before sales commence on 24 April. When it finally goes on sale, Apple does not want the usual scenes of fans queuing outside its stores for the watch. An internal memo sent by retail chief Angela Ahrendts and leaked to Business Insider reads: "The days of waiting in line and crossing fingers for a product are over for our customers.
"This is a significant change in mindset, and we need your help to make it happen. Tell your customers we have more availability online, and show them how easy it is to order. You'll make their day."
Ahrendts would rather customers try Watch in stores - with an appointment to do so - then order online and have it delivered to their home. Reports claim stock will be so limited at launch, that no UK Apple store will have any watches to sell on 24 April, forcing customers to order online, which they can do so from 10 April for a release day delivery.
Although Apple will now miss out on the free publicity generated by thousands of people queuing outside its shops, stopping this will also take attention away from the grey markets where queuers buy the latest iPhone or iPad and immediately send them to countries like Russia or China, where they are often released a few weeks later, and sold for a profit.