Apple will be selling the Watch at the Selfridges department store on Oxford Street, west London, in an all-new, purpose-built boutique.
The company already has several stores in London to sell the Watch, including on Regent Street and in Covent Garden, but the Selfridges shop will sell nothing but Apple's new wearable. The store opens at 9am on 10 April to coincide with the Watch opening for pre-order; this is also the first day potential customers will be able to try on the watch, before it goes on sale two weeks later.
Apart from its first day, the Selfridges Apple store will have regular hours of 9:30am to 9pm from Monday to Saturday, and is open from 11:30am to 6:15pm on Sundays - the same as Selfridges as a whole, which also means 11:30 until midday on Sunday is for browsing time only, due to UK retail laws.
When it announced pricing and a release date for the Watch, Apple said it would be selling the gold Edition model in limited numbers and only at select retailers. Given Selfridges is a luxury department store, it is safe to assume the gold version, which costs between £8,000 and £13,500, will be on sale there.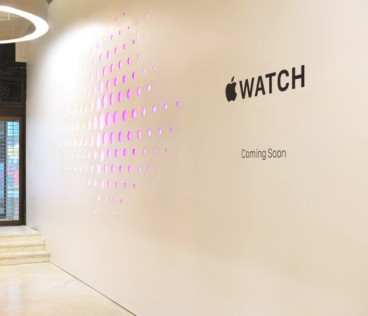 Due to high demand, customers are encouraged to book a 15-minute time-slot to try out Apple Watch before deciding which model they want to buy. They can then return on 24 April to make the purchase.
Stock is expected to be very limited, with reports claiming there will be very few watches available on the 24 April launch date for anyone who hasn't made a reservation in advance. Prices for the entry-level Watch Sport start at £299, while the regular Watch costs from £479 to £949 depending on the size of the case and style of strap.
Apple Watch will also be available to preview or try on at Galeries Lafayette in Paris, Isetan in Tokyo and Selfridges in London on April 10. Apple Watch will be for sale on April 24 at these select department store shop-in-shops, and at boutiques in major cities across the world including colette in Paris, Dover Street Market in London and Tokyo, Maxfield in Los Angeles and The Corner in Berlin.
By selling a gold watch for more than £10,000 in a luxury department store like Selfridges, Apple is clearly trying to enter the luxury goods market. But some members of the Swiss watch industry think this is a mistake. Mike France, co-founder of watchmaker Christopher Ward, told IBTimes UK he thinks Apple "is pretending to be luxury".
Ward added: ""I actually think, seriously, it will rebound against [Apple]. I think by trying to pretend that this is luxury, they are forgetting what they are about and [Apple is] in danger of [ridicule]. These are not relative values...it begs questions about what luxury is, and how stupid you have to be to spend £8,000 on a piece of technology that is pretending to be luxury. I personally don't get it. I think they are making a huge mistake. I think it's funny."