Apple has just launched watchOS 3, the newest operating system for the Watch. It brings by far the biggest update in the Apple Watch's short history. It delivers a complete change to how the Watch works and what its interface looks like.
Here is your complete guide to everything Apple has changed in watchOS 3.
watchOS 3: Speed
Although not a new feature as such, the most welcome aspect of watchOS 3 is increased speed. The sluggish user interface with apps opening slowly was a primary concern when the Apple Watch launched, and while the update to watchOS 2 helped, the third-generation operating system is in another league.
We have been using beta versions of watchOS 3 for a while now and we've found apps open pretty much instantly, showing new information right away. No spinning wheel, no five-second wait and, crucially, no need to simply give up and open the app on your iPhone instead.
watchOS 3: Control Centre
Instead of 'Glances', which have been removed, a swipe up now reveals Control Centre. This is a page of buttons for controlling Airplane Mode, checking battery life, locking the Watch, switching silent mode on or off and making your iPhone ring if you can't find it.
watchOS 3: Dock
Pressing the side button previously opened a page of your favourite contacts, but now it opens an all-new dock. Here, your most-used apps can be accessed immediately and they will always be up-to-date with the latest information.
watchOS 3: Messages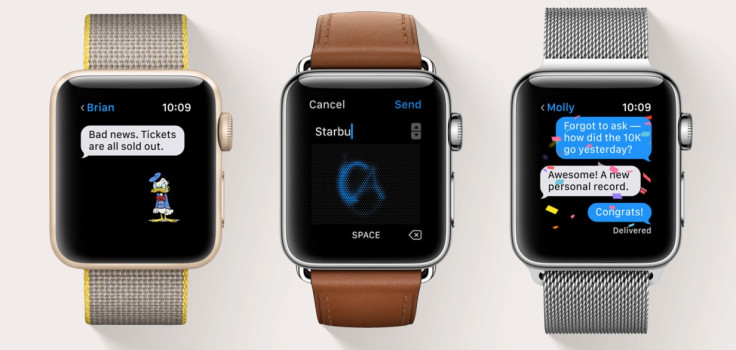 As with the Messages app on iOS, the Apple Watch can now do much, much more. You can draw letters with your finger to write words, apply visual themes to messages like fireworks or falling confetti, and send a range of Disney-themed stickers.
watchOS 3: Breathe
A new app, Breathe, is designed to help keep Apple Watch users calm and remind them several times a day to take a break and focus on their breathing. The app asks you to breathe deeply a couple of times and measures your heart rate before and after.
watchOS 3: New faces
There are four new faces with watchOS 3. The first two, Activity Digital and Activity Analog, both display your daily activity progress along with the name, negating the need to open the Activity app itself to see how you're doing. There is also the simply-designed Numerals and Minnie Mouse to compliment Micky. Tapping either Disney face makes the character say the time out loud.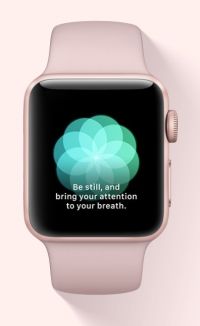 Apple has created a new way to change between watch faces by simply swiping to the left or right when the time is on the screen. A firm press of the watch still opens the face customiser, just as before.
watchOS 3: Activity sharing
Your daily activity can now be shared with friends, family and anyone else in your contacts book who you want to show off to. You can view the daily progress and calories burned of each person you swap data with, then send messages to congratulate or encourage them to try harder.
watchOS 3: Wheelchair access
In a continued effort to make its products work with everyone, Apple has tweaked the Activity app to work with wheelchair users. It takes into account different pushing techniques and accurately monitors speed and terrain. Along with tracking, there are two new wheelchair-specific workouts, and the hourly 'Time to stand!' notification can be changed to 'Time to roll!'.
Finally, up to five exercise metrics can now be displayed on the screen at once. These are distance, pace, active calories, heart rate and elapsed time. Every metric pauses when you do, so waiting to cross the road on a run doesn't count against your time.
watchOS 3: Home
A companion for the new iOS app of the same name, Home brings control of home automation gadgets to your wrist. Internet-connected doorbells can now alert you with a tap and display a live video feed of whoever is at your door. Smart lighting, locks, blinds and thermostats can all be controlled by the Watch.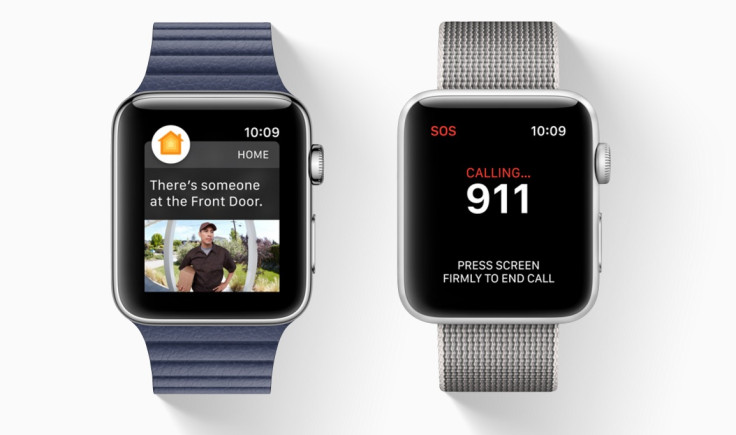 watchOS 3: SOS
While a press of the side button opens the dock, a long press launches another new app, SOS, which automatically calls the emergency services. It works wherever you are in the world and always dials the right number, even if you are abroad. SOS can also be configured to send an emergency message to select contacts.
watchOS 3: Apple Pay
Before watchOS 3, Apple Pay could only be used to tap the watch on a credit card machine or public transport barrier to pay, but now apps can handle payments too. This means you can order pizza and make the payment on your Watch, without reaching for your phone. It's up to you to work out whether this is actually useful or not.
watchOS 3: Unlock your Mac
And finally...with watchOS 3 you can automatically unlock your Mac without entering the password. Using Bluetooth, your Mac (running the new Mac OS Sierra operating system) can sense when your Watch is nearby and being worn. If the Watch cannot feel a heartbeat, and is therefore not being worn, the Mac will not unlock. Equally, it will not unlock until you have entered the Watch's PIN or password after putting it back on.