When it goes on sale on 24 April, the Apple Watch will introduce an entirely new way for developers to create applications - and for consumers to engage with them.
Along with prices details for all 30-plus models of Watch, Apple has given the most detailed look yet at how the wearable works and what Watch apps will look like. This is our guide to how the Apple Watch apps work and what will be available at launch.
Glances and apps
The software of the Apple Watch is split into two sections; apps (detailed below) and Glances, which are viewed by swiping up from the bottom of the screen. These are similar to Google Now cards, delivering small bits of information such as share prices, the weather forecast, details of an upcoming flight.
Apple has asked developers not to include scrolling in Glances. The user can flick left or right - to view the weather in different cities - but cannot scroll down. All the information must be shown at a glance. However, not all apps need to come with a corresponding Glance page, it's up to the developers.
Apps we've seen so far
At its Spring Forward press event, Apple showed off several Watch apps ahead of its 24 April release date, including offerings from Facebook, Instagram, Uber, Shazam, W Hotels and more. In all, the Watch comes with 20 Apple apps pre-installed, and the company's website shows off 43 Watch apps at the time of publication, with more expected before it goes on sale on 24 April.
Here is a quick runthrough of what we saw and how the apps will work on Apple Watch. Just like the iPhone and iPad before it, the Watch will live or die on the quality and quantity of apps produced by developers.
W Hotels - Replacing the room key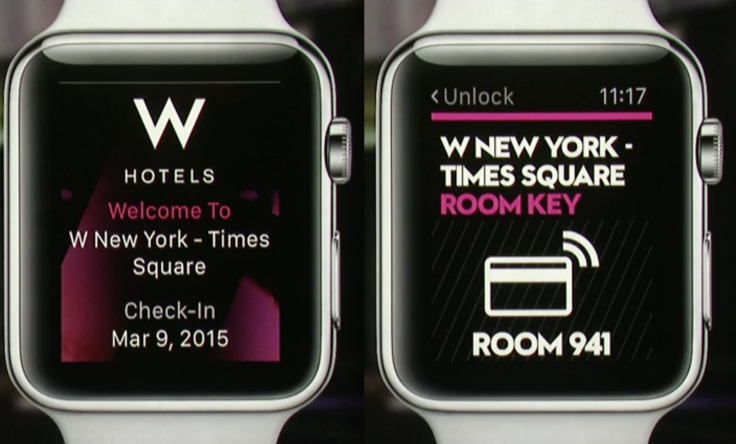 Successful consumer technology products are those which replace products we already own. The smartphone replaced the digital camera, MP3 player, dictaphone, map, library, television, radio and much more - for the Apple Watch (and the smartwatch concept generally) to succeed, it must do the same.
W Hotels has an app which lets you use the Apple Watch as your room key. The technology exists for smartphones to perform this role too, but tapping your watch against the door is an easier and more natural experience than reaching for your phone - handy when you're carrying suitcases and shopping.
Plane boarding passes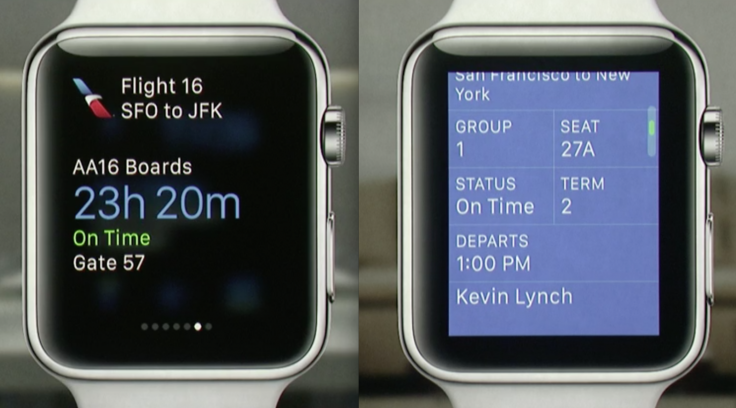 Watch also acts as a useful replacement for the Passbook iOS app, storing QR codes for flight boarding passes in a place more convenient and more quickly accessible than the phone in your pocket or bag.
That last note ties closely to why the Watch is available with two case sizes and three strap sizes - to appeal to both men and women; the latter are more likely to carry a phone in their bag instead of a pocket, and therefore stand to benefit more from having boarding passes, notifications and credit cards through Apple Pay, on their wrist instead of their phone.
Shazam - Being quick on the draw
Trying to dig an iPhone out of your pocket, unlocking it, finding Shazam and launching it can take a good few seconds, and in that time the music you were trying to identify may well have stopped. We imagine using the Apple Watch version will be a quicker experience, highlighting another benefit to having apps on your wrist.
The use cases are fairly limited for now, and learning to prioritise your watch over your phone for certain situations will take time, but just as phones are chosen over laptops for quick Google and YouTube searches, this transition should happen - so long as a steady flow of quality Watch apps arrive after launch.
Alarm.com - Controlling your house alarm and door locks remotely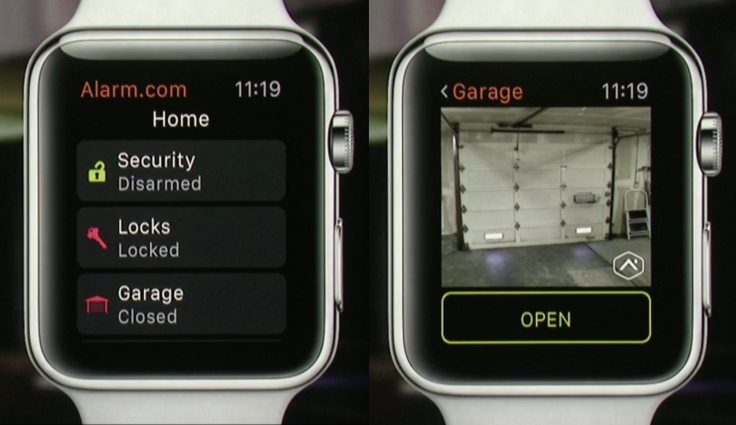 Real-world use cases are also needed to make the Watch a success, and one of Apple's most interesting demonstrations was with the Watch app from Alarm.com. Say a family member forgets their keys, but you are away on holiday and can't let them in, this app lets you disable the house alarm and open any door fitted with Alarm.com's remote locking system. The Watch app also shows a live webcam feed of the door being opened. Of course this means you need all the relevant kit installed - and you could always use an iPhone or computer instead - but the big sell here is the extra ease-of-use offered by the Watch.
Uber - Hailing a cab from your wrist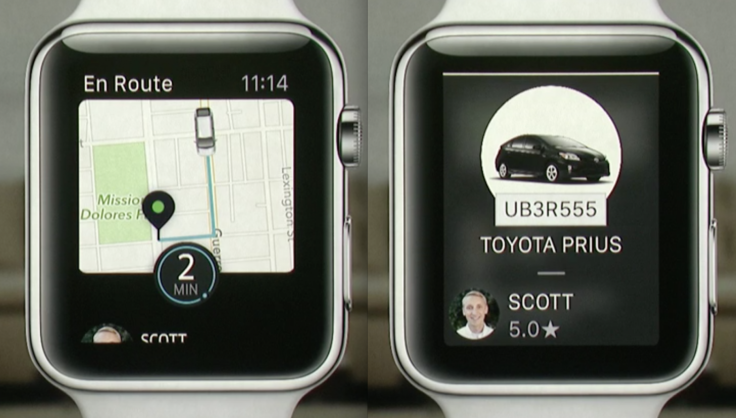 Simplicity is a theme shared by the Uber app for Watch. We don't know of it offering any extra features over its iOS and Android cousins, but tapping the watch to hail a cab and glancing at your wrist to see its progress towards you is a simpler experience than loading up the iPhone app. In many case, the Watch offers little more than the comfort of not reaching for you phone, but if Apple can convince users that is a luxury worth paying for, then the hard work is done.
Other transport apps coming to the Watch include Citymapper, which gives extensive public transport routes with step-by-step instructions, and an app from BMW which shows the battery charge level of its i3 and i8 electric cars.
Social networking with Facebook, Instagram and WeChat

Although Watch isn't the place to scroll through your Newsfeed - Apple suggests developers provide no more than 10 seconds' worth of interaction for each time an app is opened - the social networks we all use will treat Watch as a notification hub. A demonstration of WeChat suggested you use emoticons and other expressive images instead of words, although dictation through the microphone is possible. Watch is for messages like "I'm running late/busy/on my way" rather than a complex philosophical debate.
When the iPhone launched in 2007 it was just a phone. It was shiny and had clever software, but it was still just a phone with a camera, slow internet connection and storage for music. When the App Store arrived with the iPhone 3G the floodgates opened.
The Apple Watch can't just be another watch. It needs to be much more right out of the gate, and the only way it'll succeed is with a large and varied collection of quality applications which show how the watch can genuinely improve the life of its wearer.