Apple Watch will be one of the biggest product launches in Apple's history. Not just because, for the first time since the iPad in 2010, Apple is entering a new product category, but also because of how many watches Apple will put on sale on 24 April.
Where the iPhone range comes in two screen sizes, three colours and three storage options, the Apple Watch has two sizes, three models and enough straps to make over 30 unique products covering a price range of £299 to £13,500.
With so many options on offer, here is our guide to finding out which Apple Watch is best for you. Pre-orders for the Apple Watch open on 10 April.
Case size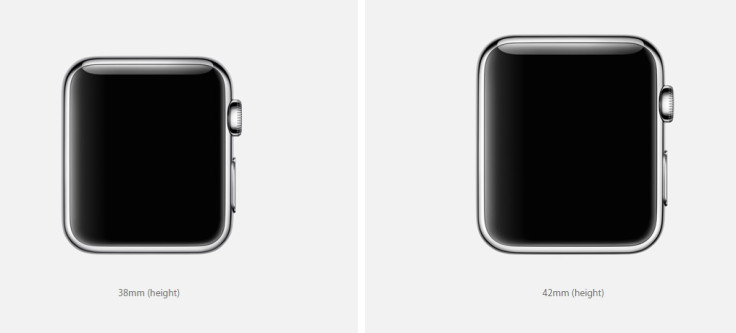 Firstly, let us look at the two size options. The smaller model has a case which is 38mm high; the larger model is 42mm. This may not sound like a huge difference, but it gives Apple a unique edge over the one-size-fits-all Android Wear competition; women who typically want a smaller watch have that option with Apple and no one else.
Not all versions of Apple Watch are available in both sizes, with some designs exclusive to the larger case and some exclusively using the smaller one.
Collections and straps
The Apple Watch range is split across three unique collections; Watch, Watch Sport and Watch Edition. Each collection includes different coloured cases and a range of straps, but they aren't all available with both sizes of case.
In all, the Watch can be had with six different case finishes, including stainless steel, space black stainless steel, silver aluminium, space grey aluminium, 18-carat yellow gold and 18-carat rose gold.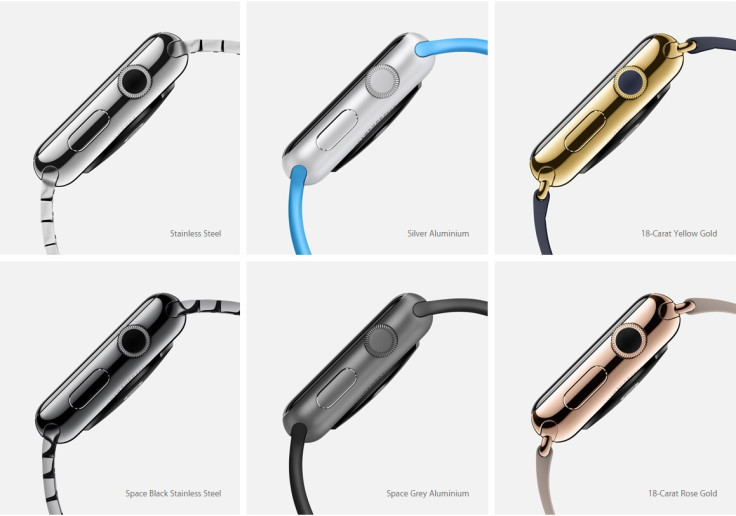 ---
Strap prices
---
Apple will sell replacement straps for the Watch, and here are the prices:
Sport Band, 38mm and 42mm - £39
Milanese Loop, 38mm and 42mm - £129
Leather Loop, 42mm only - £129
Classic Buckle, 38mm only - £129
Modern Buckle, 38mm only - £209
Link Bracelet, 38mm and 42mm - £379
---
Apple Watch
---
Watch has a polished stainless steel case with a glossy black front protected by sapphire crystal. Apple also sells a space black-coloured Watch, made from stainless steel, but that is only available with the space black Link Bracelet. There are 18 different models in the Watch collection with six different styles of strap to choose from.
Sport Band: 38mm - £479; 42mm - £519
Both the 38mm and 42mm models of Apple Watch can be bought with either a black or white Sport Band made from, as Apple describes it: "a custom, high-performance fluoroelastomer," The strap is secured with a pin-and-tuck closure.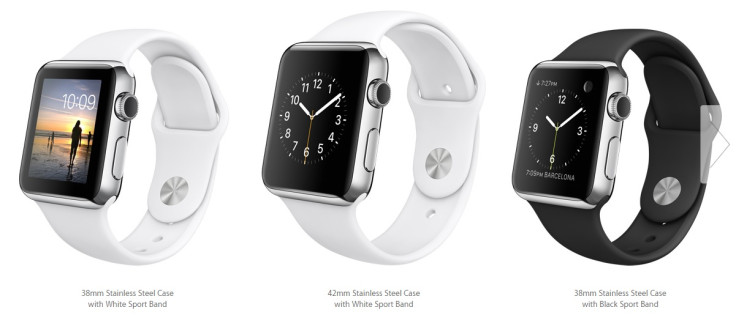 Classic Buckle: 38mm - £559, 42mm - £599
The two sizes of Watch can also be bought with Apple's black Classic Buckle strap, which is made from leather and mostly closely resembles a traditional watch strap. It uses leather sourced from the Ecco tannery in the Netherlands, and the material is milled to give the grain a textured pattern.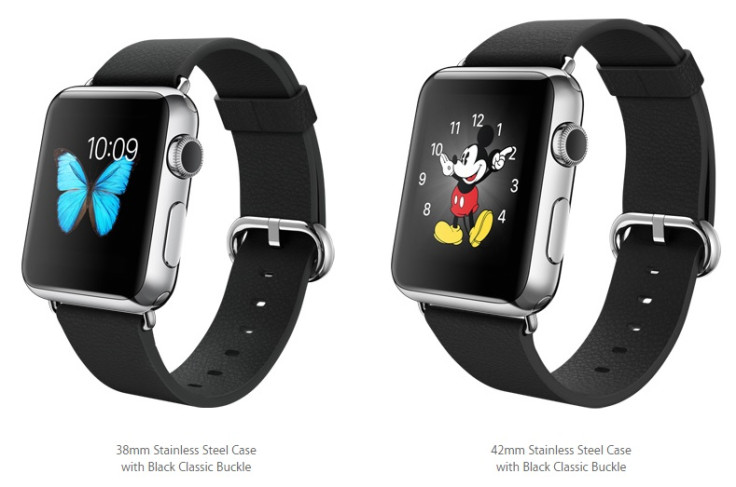 Milanese Loop: 38mm - £559; 42mm - £599
Apple also sells the 38mm and 42mm Watch with its Milanese Loop strap, which is a flexible metal mesh and uses magnets to lock into place and fit any wrist size. Apple created its own alloy for this strap, which is woven on specialised Italian machines, before every piece of the strap is laser-welded.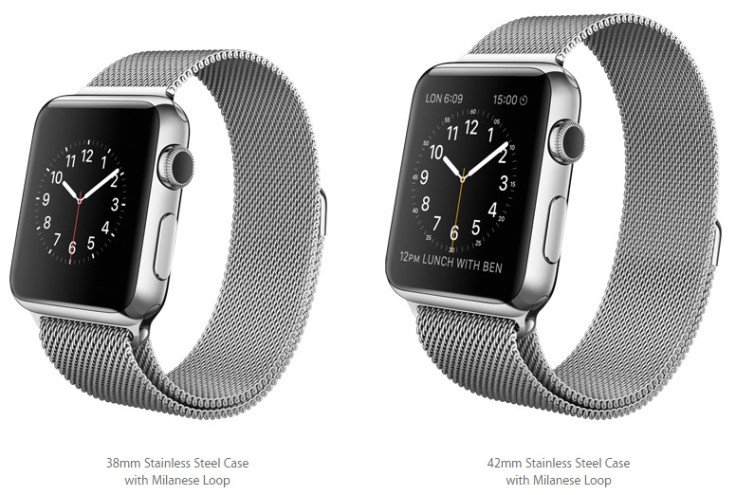 Modern Buckle: 38mm only - £649

Next up is the Modern Buckle, made from Grenada leather at a small french tannery established in 1803. The strap is available in soft pink, brown and midnight blue - but can only be bought with the 38mm Watch. You cannot by the 42mm Watch with the Modern Buckle strap.
Posing as a traditional metal buckle, the strap's locking mechanism is actually a magnet and the buckle is there purely for aesthetic reasons. An inner layer of Nasa-derived Vestran weave is added to increase strength and scratch resistance.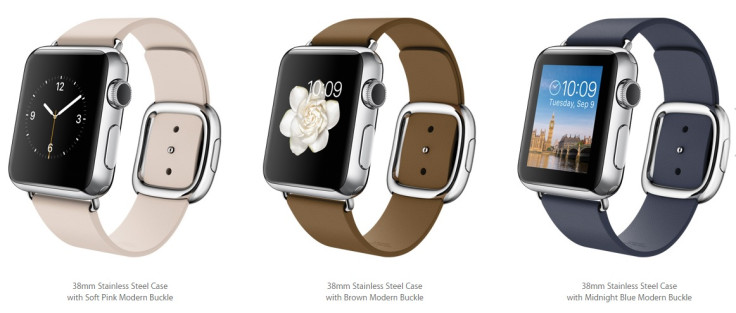 Leather Loop: 42mm only - £599

Only available with the 42mm Watch, the Leather Loop strap comes in stone, bright blue and light brown. It is made from Venezia leather and is handcrafted in Arzignano, Italy. This strap also uses concealed magnets to close, but does away with the mock buckle of the previous strap.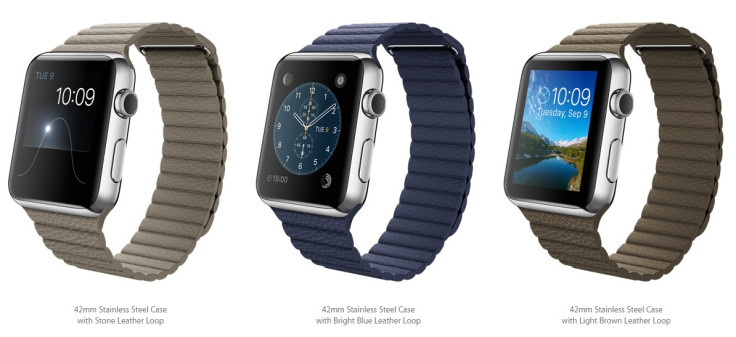 Link Bracelet: 38mm - £819; 42mm - £859
(Space black is an extra £80 and £90 for the 38mm and 42mm watches respectively)

Sold with both the 38mm and 42mm versions of the Apple Watch, this strap is a traditional metal link option.
In its space black guise, this strap is the only option for those wanting a space black Watch, as every other strap comes with the stainless steel watch case.
The Link Bracelet uses the same 316L stainless steel alloy as the Watch's case and has more than 100 components. Apple says it takes nine hours to cut out the links, each of which grows subtly larger as they get closer to the case. Several links include a button release mechanism, so the size can be adjusted without needing special tools. The strap locks into place with a custom butterfly closure.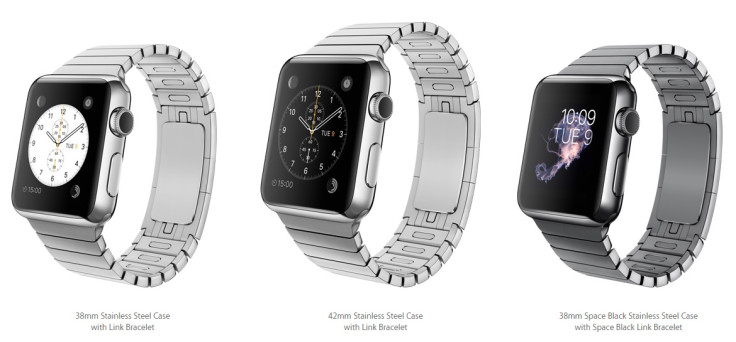 ---
Apple Watch Sport
---
Watch Sport 38mm - £299; Watch Sport 42mm - £339
The Watch Sport has an anodised aluminium case with the same texture as the back of an iPhone 6, and is available in phone-matching silver and space grey. Watch Sport comes in the same 38mm and 42mm case sizes as Watch.
Instead of sapphire crystal, the screen is protected by what Apple calls "strengthened Ion-X glass." Apple says the Sport is up to 30% lighter than the regular Watch.

Apple sells 10 models of Watch Sport, translating into both cases sizes available with the Sport Band in white, blue, green, pink and black.
---
Apple Watch Edition
---
Finally, Watch Edition is Apple's answer to the high-end, high-price luxury watch market dominated by Switzerland. The Watch Edition comes in the same 38mm and 42mm case sizes as its stablemates - although not every model is available in both sizes - and is made from 18-carat gold which Apple claims is twice as hard as standard gold. The screen is protected by sapphire crystal.
Yellow gold with bright red Modern Buckle: 38mm only - £13,500

This watch is only available as a smaller 38mm model, has a yellow gold case, and uses a bright red version of the Modern Buckle strap mentioned above. The watch also has a matching red detail on its crown.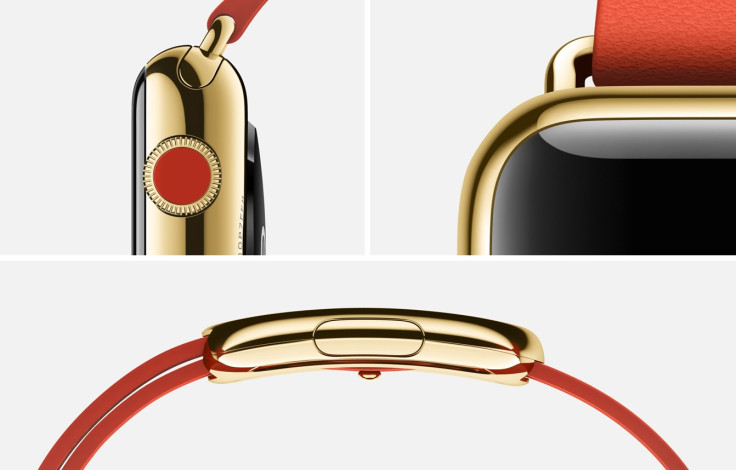 Rose gold with white Sport Band: 38mm - £8,000; 42mm - £9,500
Sold in both 38mm and 42mm case sizes, this watch has a rose gold case, white rubber Sport Band, and a matching white detail on its crown. The strap also has a rose gold pin to match the case.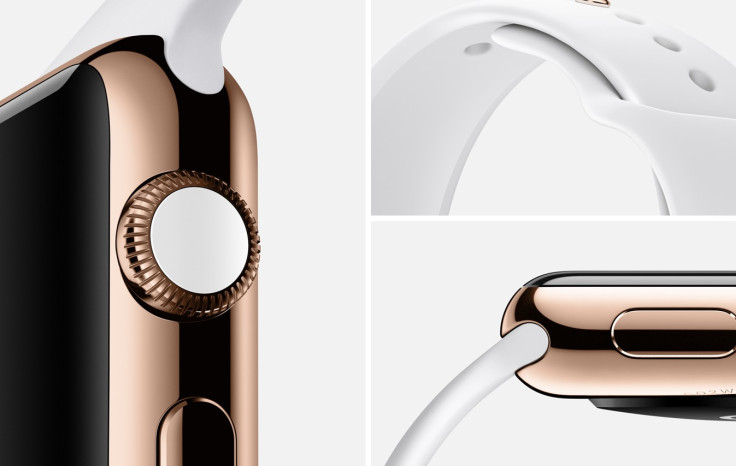 Rose gold and rose grey Modern Buckle: 38mm only - £13,500

Available only in the 38mm size, this Watch Edition has a rose gold case with rose grey Modern Buckle leather strap and matching gold magnetic buckle.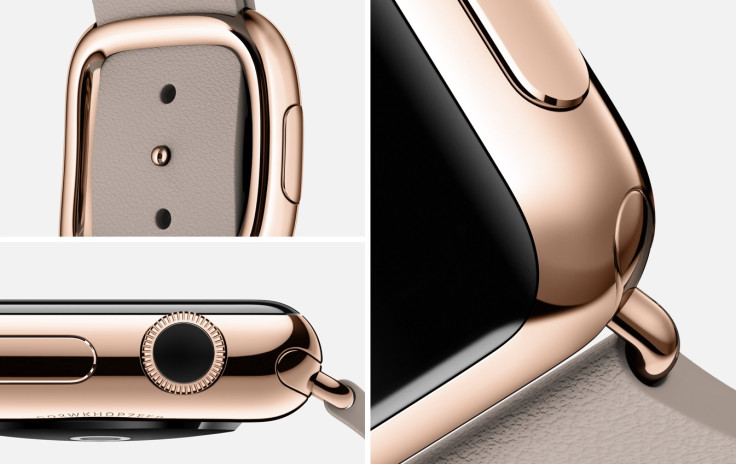 Yellow gold and black Sport Band: 38mm - £8,000; 42mm - £9,500

A yellow gold Watch Edition available with the 38mm and 42mm case sizes and a black Sport Band with matching gold pin. The crown also has a black detail to match the strap.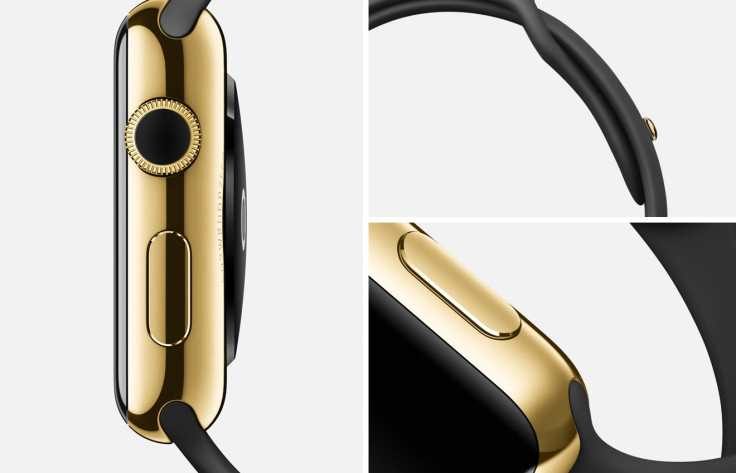 Yellow gold and midnight blue or black Classic Buckle: 42mm only - £12,000

Finally, this Watch Edition pairs the 42mm yellow gold case with a midnight blue Classic Buckle leather strap and yellow gold buckle; there is a matching blue detail on the crown.