US restaurant chain Applebee's has become embroiled in a PR nightmare after firing a waitress for posting a photo of a non-tipping guest's receipt online.
The restaurant fired Chelsea Welch after she posted the picture on Reddit, which showed the 18 percent gratuity crossed off by a Christian minister.
Although the guest, Pastor Alois Bell, paid the gratuity, she said she shouldn't have to, writing "I give God 10 percent why do you get 18" directly above her signature.
Following the meal, on 25 January, Welch took a picture of the receipt and posted it online, after which Applebee's fired her.
The restaurant chain said Welch had violated the customer's privacy. In a post on its Facebook page, it defended its decision to fire the waitress.
"We know you will agree, the guests who visit Applebee's - people like you - expect and deserve to be treated with professionalism and care in everything we do.
"The team member was asked about posting the receipt and admitted she was responsible.
"When she was hired, the team member was provided the franchisee's employee hand book which includes their social media policy and states:
"Employees must honour the privacy rights of Applebee's and its employees by seeking permission before writing about or displaying internal Applebee's happenings that might be
considered to be a breach of privacy and confidentiality.
"This shall include, but not be limited to, posting of photographs, video, or audio of Applebee's employees or its customers.
"As a result of her admission to violating a clear company policy intended to safeguard guests, the team member is no longer employed by the franchisee."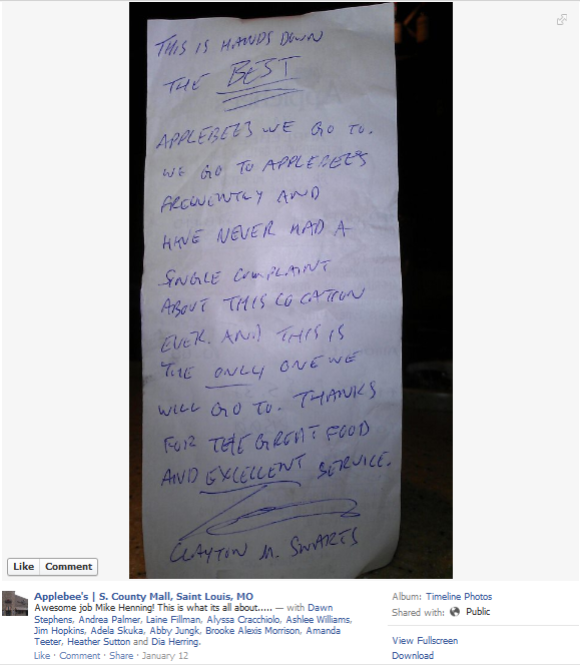 The company then went on to further explain its actions in another Facebook post: "She took it upon herself to take a guest's receipt, with the name clearly visible, and posted it online with her own commentary.
"That is a clear violation of our guest's privacy and against the franchisee's company policy that the team member was provided when hired. We simply cannot accept behaviour that compromises the safety and privacy our guests have every right to expect and deserve."
Hypocrisy?
However, in defending its decision to fire Welch, the company has inadvertently left itself open to accusations of hypocrisy, as it had posted a picture of a favourable receipt with the guest's name clearly visible on its Facebook page just a few weeks earlier.
It removed the picture after firing Welch but blogger If You Can't Afford to Tip had taken screenshots of the post.
Over 20,000 people commented on Applebee's defensive posts, including the person running the company's social media - who tried to respond to individual users in a desperate bid to explain, further igniting fury among its social networking users.
Applebee's president Mike Archer responded to the situation by saying: "Our franchisees are committed to acting in the best interests of guests and team members. This is a regrettable situation and we wish it had never happened.
"However, the disregard for an important policy left the franchisee no choice but to take the action they did.
"I recognise that you may still disagree with the decision, but I hope this may have provided some additional insight."