Apple could be planning to embed Force Touch into the Mac keyboard while removing the physical switches. Apple introduced the Force Touch technology in its new Magic Trackpad 2 which is the company's new wireless accessory for the 2015 iMac launched in October. The technology enables a range of ways to interact with the Mac including the Force Click feature to quickly look for a word, preview a file or bring up a map from an address.
A patent granted by the United States Patent and Trademark Office (USPTO) to Apple for an "Ultra low travel keyboard" basically talks about the functions of a completely switch-less QWERTY input similar to what we have seen in Force Touch trackpad that lets you Force click by pressing on the trackpad and then applying more pressure. This allows you to take advantage of the functionality in app and features on Mac.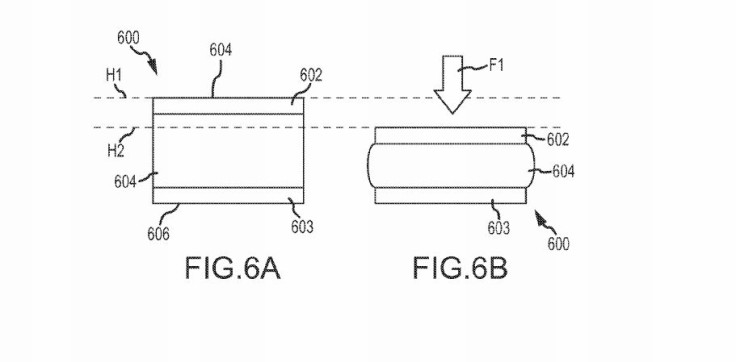 "Because a conventional keyboard key typically travels a substantial, the space required to accommodate this travel may prevent thinner keyboards from being manufactured with conventional technology. Accordingly, in one respect, it may be desirable to gave a keyboard key that does not travel substantial distance, so as to be able to produce thinner keyboard. In another aspect, it may be desirable to have a keyboard key that can accommodate more than one response in a single key," reads an abstract of the patent that was originally filed in the third quarter of 2012 and published on 3 November 2015, bearing patent number 9,178,509.
The current MacBook and Mac accessories feature modified scissor switches or butterfly switches on the 12in Retina MacBook. The patent suggests the same design but replaces the mechanical switches for a range of sensors, actuators and circuitry.
The Force Touch keyboard for Mac functions in a way similar to Apple's Force Touch trackpads but with one force sensor package for each keyboard key, explains Apple Insider. These force sensors configured to measure the downgrade pressure are integrated under the keyboard's key caps, whereas the integrated actuators generate haptic feedback. It remains unclear if Apple plans to release the Force Touch-enabled keyboard for the MacBook.