The Archbishop of Canterbury Justin Welby has condemned the killings of 21 Egyptian Christians in Libya by Islamic militants as an act of "terrible cruelty".
The Islamic State (Isis) purportedly released a video entitled: "A message signed with blood to the nation of the cross" showing the beheadings of the Coptic Christians.
The Archbishop expressed solidarity with the Anglican Church in Egypt.
"The killers seem to rejoice in ever more extreme acts carried out to inflict even greater terror. We must all weep with those affected, and know that in the love of Christ all evil will be overcome," Welby said in a statement from Lambeth Palace.
"The light and peace of Christ are at the heart of the faithful lives of Christians, and will not be overcome by the darkness which Isis seek to spread.
"Let us pray for the peace of Christ to be evident, and for governments affected to be wise and courageous."
Foreign secretary Philip Hammond also called the beheadings "barbaric".
"Acts of terrorism should not be allowed to undermine Libya's political transition," said Hammond.
"We remain fully supportive of the UN's efforts to build a national unity government for Libya and to bring a political solution to the ongoing security crisis.
"Those who support terrorists can have no part in this process."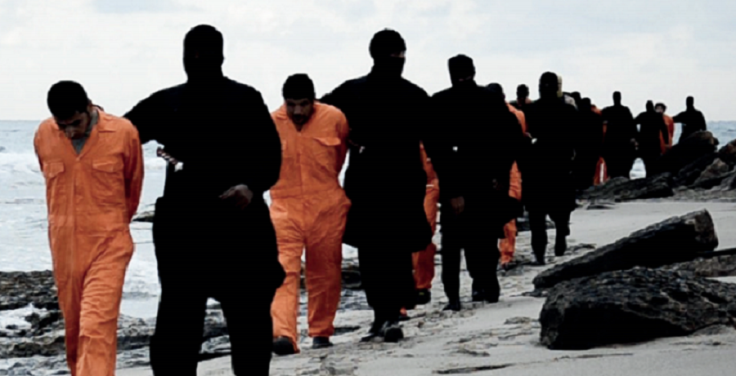 The Christians were kidnapped in two separate incidents last month and in December from the town of Sirte in Libya, which is being held by Libya Dawn, an Islamist-led militia coalition, involving groups such as the February 17th Martyrs Brigade, reportedly the biggest and best armed militia in eastern Libya.
The latest Isis video shows the group of men dressed in orange suits being escorted by the militants along a beach.
"All crusaders: safety for you will be only wishes, especially if you are fighting us all together. Therefore we will fight you all together," a masked militant said.
"The sea you have hidden Sheikh Osama bin Laden's body in, we swear to Allah we will mix it with your blood."