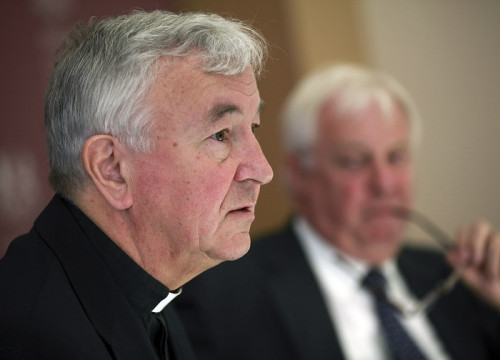 The most senior Catholic cleric in England and Wales has described the government's welfare cuts as a "disgrace" because they threaten the country's most vulnerable with "hunger and destitution".
The Archbishop of Westminster, cardinal-designate Vincent Nichols, said the UK coalition government's social reforms have "torn apart" the safety net for the country's poorest families, leaving them with nothing if they fail to deal correctly with state bureaucracy.
He said that although people understand more care has to be taken with public expenditure, the welfare system has become more "punitive".
"I think what is happening is two things: one is that the basic safety net that was there to guarantee that people would not be left in hunger or in destitution has actually been torn apart," the archbishop told The Telegraph.
"And the second is that, in this context, the administration of social assistance - I am told - has become more and more punitive," he added.
"So if applicants don't get it right, they have to wait for 10 days, for two weeks with nothing. And that's why the role of food banks has become so crucial for so many people in Britain today. For a country of our affluence, that quite frankly is a disgrace."
A spokesman for the Department of Work and Pensions responded by stating that the government's welfare reforms will "transform" the lives of the UK's poorest families by giving three million households access to universal credit and lifting hundreds of thousands of children out of poverty.
In March last year, Anglican clergymen including the archbishops of Canterbury and York signed a letter accusing Conservative Work and Pensions Secretary Iain Duncan Smith of overlooking the concerns of ordinary people.
The letter said placing caps on benefit rises would have a "deeply disproportionate" effect on children.
In 2013, the government introduced a cap on the total amount of benefits working age people can receive, so households on such benefits can no longer claim more in benefits than the average wage for working families.
Archbishop Nichol's attack comes just days before he will be among 19 senior clerics chosen by Pope Francis to be elevated to the Roman Catholic clergy's second highest rank.