Archie Andrew, the most beloved comic book character whose exploits have entertained readers for the last 73 years, will meet his sad demise this summer.
Archie Comics has decided to give a \'heroic exit\' to the loved character in the final two issues of Life with Archie #36, which is slated to release on 16 July followed by the 37th and final issue.
Initially, Archie was the 17-year-old high school student in the fictional city of Riverdale but later, the character was reintroduced as an adult in the fast forward series \'Life With Archie,\' which focuses on Archie and his hangout gangs in post-college years.
\"My gut told me this was the right story to share with our fans right now. So we\'re doing it. We definitely deliberated over how to tell the story, but we knew it was the perfect way to end this series.\" Archie Comics CEO Jon Goldwater told TODAY.com, explaining the sudden death announcement of Archie.
\"I feel totally confident, though, that when people sit down and read the \'Life With Archie\' finale, they\'ll sit back and agree it\'s a fitting, emotional and touching ending for Archie. He dies as he lived — protecting his friends and representing the best in all of us,\" Goldwater said.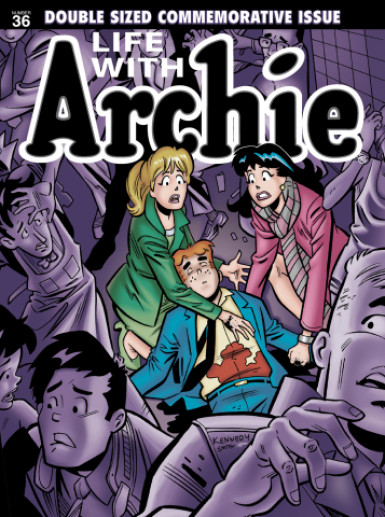 Goldwater also acknowledged the frustrations of fans post Archie\'s death and hopes readers will understand why the comic story needs to go down.
\"This story is going to inspire a wide range of reactions because we all feel so close to Archie. Fans will laugh, cry, jump off the edge of their seats and hopefully understand why this comic will go down as one of the most important moments in Archie\'s entire history.
\"It\'s the biggest story we\'ve ever done, and we\'re supremely proud of it,\" Godwater told in a statement, CBC.ca reported.
The Archie finale story is written by Paul Kupperberg and the cover and interior art is done by Pat and Tim Kennedy.
The cover image shows a badly injured Archie lying unconscious while his long time girlfriend Veronica and Betty looks at him in shock.
Meanwhile, Archie fans were emotional at the sad news and took to Twitter to express their shock and grief.
#Archie Andrews from the comic strip Archies will meet his end in \"Life With Archie\"! Sad yet true :-( #RIPArchie

— Abhishek Sharma (@shakeabu) April 9, 2014
All jokes aside, the news of Archie\'s sudden passing is going to upset a lot of 70 year olds. #RIPArchie — Lynn Kestenbaum (@lynnguppy) April 9, 2014
Archie Andrews to be killed off? REALLY? What nonsense is this?

— Pea Tea (@SwimPhony) April 9, 2014
So Archie Andrews dies. Will Betty and Veronica finally make it official now? — Sherni. (@Highheelswaali) April 9, 2014
Theyre killing my Archie. I repeat: THEY ARE KILLING ARCHIE ANDREWS. #sob #ArchieRIP

— That Nerdy Bitch (@ThatNerdyBitch7) April 9, 2014