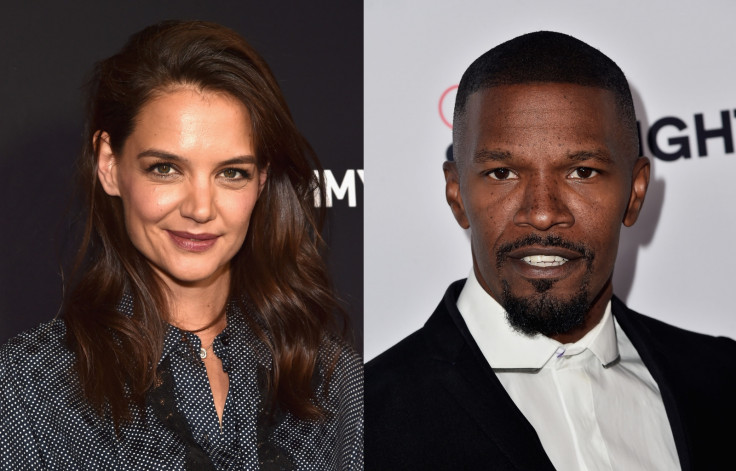 Katie Holmes and Jamie Foxx have finally been caught together in public. The rumours of romance between the A-list Hollywood actors started almost 4 years ago after Holmes split from her former husband Tom Cruise in 2012.
The pair was photographed while on an intimate dinner date on Sunday night (2 April) in the East Village in New York City, according to celebrity blog Fameolous Entertainment.
The Woman in Gold actress in the photo can be seen wearing glasses, a black jacket with her hair tied into a ponytail, while the Django Unchained actor can be seen in his signature look – a fedora (a white one) and faded sunglasses – the same look he wore in his most recent Instagram photo.
A source told Entertainment Tonight that the pair had never been photographed together because they prefer to "cater in" their date nights.
"Jamie is also very private when it comes to his personal life," the source added.
Sources have also told to E! News that Holmes and Foxx have been dating for "years". It is "not a secret among their friends," one source said and added that they were able to keep their romance under wraps till now as they always pre-planned every step leading to their secret meetings.
However, Foxx was reportedly photographed holding hands with Holmes' at his home studio in May 2015. At the time, the 49-year-old had denied that he was dating Holmes, 38.
"What I've learned about society today is that they're so thirsty. Especially in tabloid world and social media world, they're so thirsty to find any story," he told Entertainment Tonight. "Sometimes when you read the stuff, you're like, 'Wow! That's so not true!'"
In January also, Foxx and Holmes were reportedly spotted together as they welcomed the New Year, according to US Weekly. They were "holding hands while walking near the pool" at club Soho House Miami. On December 30, the two were also spotted having an intimate dinner date in South Beach.
"They're very serious," a source previously said and added that Cruise and their daughter Suri are aware of her relationship with Foxx.