It's been a month since Kylie Jenner and Tyga split in May, and even though Jenner is apparently dating rapper Party Next Door, the famous reality star is still friends with her 26-year-old ex-boyfriend.
Last week Jenner flew out to Jamaica for Tyga's music video shoot to show support. Even though the Keeping Up With The Kardashians superstar was not in the rapper's music video she posted a picture of herself on snapchat in Tyga's bed.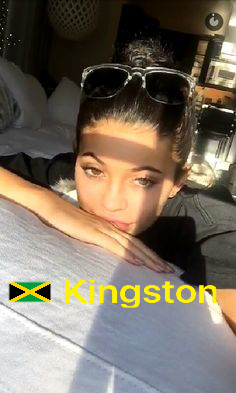 The Kylie Lip Kit owner announced on Snap Chat that she was in Jamaica doing a photoshoot for a bathsuit company. TMZ reports the pair are not getting back together however, but the ex-lovers still see each other and text constantly. A source told the celebrity news website that there's still a lot of love, and no bitterness since no one cheated.
Tyga told Big Boy TV on Friday (17 June) that his relationship with the reality television star casted a cloud over his music career and that he doesn't get involved in his ex's love life. He said: "When you're in a very public relationship like that, it's hard for other people to see you differently than that.
"Being in that it took a lot, career wise, everything. It overshadowed a lot of my talents and a lot of things that I worked hard for."
The father-of-one continued: "People gotta let her move on," adding: "It's not my life any more.
"When you're not with that person, whatever that person does after you – that's their life and that's their decision. That's their bed. They gotta lay in. That's life. That's love. People can decide to love who they want and start life with whoever they want," he concluded.
Whilst Jenner is said to be dating rapper PartyNextDoor, Tyga denied that he has a new girlfriend after his 'holiday romance' with model Demi Rose Mawby, posting on Twitter: "I'm single. I'm enjoying life."
In his interview with Big Boy TV, Tyga acknowledged the possibility of him and Jenner getting back together in the future. "Maybe later on in life, maybe we might come back," he said. "She's young. When you're young, you're going to make mistakes. All of those mistakes are going to be in the public eye so that puts a lot of strain on the relationship. Right now, I want to focus on what I need to do. I just wanted to get back to just me. I think for her as well."
The couple dated on and off for two years.