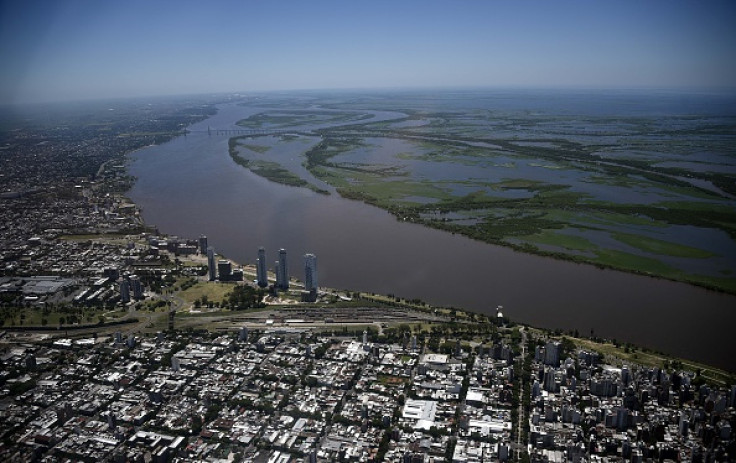 Beaches across northern Argentina saw major closures after stinging insects and poisonous snakes were carried in through the recent floods affecting the region. The floodwater was seen covering several seaside bar terraces and beaches heightening the risk of human contact with the displaced animals.
"We are raising awareness of the risk and danger present today. There are otters and species of snakes that are poisonous," said an official from the coastal town of Quilmes, Matias Leyes. "The beaches of Quilmes have been closed as a precaution. We were cleaning up the coast during the week and while doing so we saw the snakes under the water lilies."
Water lilies were also found to have been carried in through the floodwaters in Rio Plata and Rio Parana. The poisonous creatures whose dens were lost to the flooding were often seen hiding beneath the water lilies as a temporary home. "It is dangerous because when there is not much beach there is more risk of coming into direct contact with rodents or snakes, whose dens are all flooded," said Gonzalo Ratner, a top civil defence official from Rosario, reported AFP News.
Inland beaches have also been closed to holidaymakers in the northern city of Rosario after locals there discovered several displaced otters, a wild boar and a fox cub, and poisonous animals, like snakes, scorpions and stinging insects.
The downpours triggered by the El Nino weather pattern has led to several hundred thousand people being displaced from their homes across four South American countries in what was described as the "worst flooding in 50 years". Rivers across Paraguay, Argentina, Uruguay and Brazil were severely flooded due to El Nino.
Earlier, flooding across Texas and Oklahoma washed up snakes, as well as some alligators, into flooded yards with some reports of the poisonous animals making their way into living rooms and bedrooms in flooded houses. "I was talking on the telephone," a resident reportedly told a news reporter. "I said, 'There's a snake in my house,' and I hung up. I was in a state of shock."