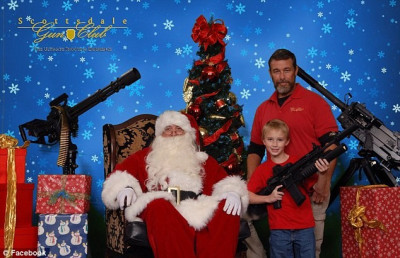 An Arizona gun club is inviting families to have their picture taken with Santa Claus with a twist -- by getting them to pose with high-powered firearms.
Visitors to the Scottsdale Gun Club can pay between $5 (£3), or $10 (£6) for non-members, to be photographed with Santa whilst holding their choice of weapon, from pistols to machine guns to grenade launchers.
Once the photographs have been taken, they can then be sent out to friends and family as heart-warming Christmas cards.
The gun club's Web site encourages visitors to "Get your holiday picture with Santa and his machine guns."
The club advertised: "Families and gun enthusiasts from around the Valley will have a one-of-a-kind opportunity to be photographed next to Santa while against a backdrop of a stunning $80,000 (£51,000) Garwood mini-gun and SGC's coolest belt fed machine guns including the M60, M249 and M240."
Some of the pictures show that children and babies are also able to get their hands on a firearm whilst posing with Santa.
The guns used in the pictures are not loaded and have had their firing pins removed, and the club insists the chambers are regularly cleared to ensure safety.
This is the second year the Scottsdale Gun Club has offered this service, with around 500 people showing up this year to take around 150 photographs. The club is already planning another opportunity to have your picture taken with Santa and his guns on Dec 10.