An armed opposition group in Armenia barricaded inside a police station have taken an ambulance crew hostage following a shootout in an ongoing stand-off that has lasted more than 10 days.
When they first seized the police premises in the Erebuni district of the capital Yerevan on 17 July, the group known as the "Daredevils of Sassoun" killed one police officer and took several hostages, before demanding the release of the jailed opposition leader Zhirair Sefilyan and the resignation of the president Serzh Sargsyan.
Sefilyan heads a small opposition group called the New Armenia Public Salvation Front and was arrested in June, accused of preparing to seize buildings and telecoms facilities.
Police said medics who went into the compound to treat two gunmen injured in clashes were taken as hostages on Wednesday 27 July, AFP reported.
Riot police detained at least two dozen people who continued to demonstrate in support of the gunmen.
Police spokesman Ashot Aharonyan wrote on Facebook: "The police are taking steps to free the doctors through negotiations."
Aharonian said that the leader of the group, Pavel Manukian, and his son were injured in a shootout overnight, Radio Free Europe reported.
The tiny Caucasus republic of fewer than three million people has been shaken by the standoff which has led to clashes between protesters and police. There have been daily protests near the station staged by the opposition group Founding Parliament and its allies for the past week.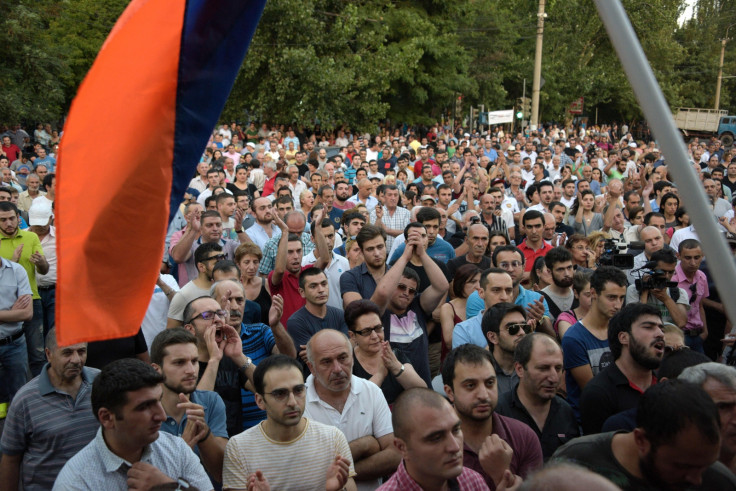 Founding Parliament comprises of veterans of the 1988-1994 conflict with Azerbaijan over the separatist Nagorno-Karabakh territory. They oppose any territorial concessions to Azerbaijan in exchange for a Karabakh peace deal, which is believed to be under consideration in Yerevan.
Thousands of people rallied and clashed with police on Tuesday July 26. Eurasianet.org has reported that public sympathy is with the hostage takers, stemming from antipathy toward the government, which is accused of rampant corruption and abuse of civil rights.
Human rights activist Artur Sakunts told the news outlet that the the gunmen's complaints were "legitimate" since they supposedly had "exhausted all legal and political methods".
The armed group reportedly numbered around 30 when it stormed and seized the police station on July 17. They have since released the original hostages they captured that day.