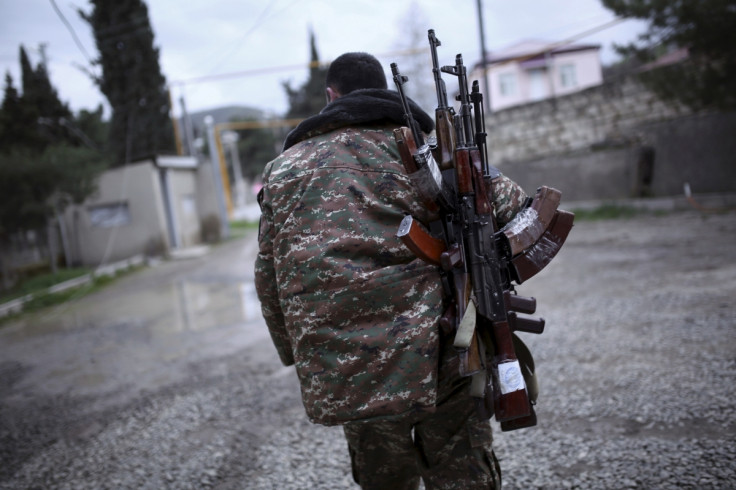 After four days of fighting, Azerbaijan and Armenia have agreed a tentative ceasefire in Nagorno-Karabakh following the reigniting of a two decades-long frozen conflict over the disputed region, which many fear threatens to drag in the big neighbouring powers.
Amid claim and counterclaim, Azerbaijan said that 16 of its troops were killed while ethnic Armenian separatists accused the other side of using heavier weapons. Dozens from both sides are thought to have died so far in the conflict.
Azerbaijan's defence ministry, which had earlier threatened a major attack on the region's capital Stepanakert, said it had agreed on a ceasefire starting at midday local time (8am BST) on 5 April.
Tensions have been simmering since the break-up of the Soviet Union in 1991, which led to a war between the neighbours over the Armenian-majority territory, is located in Azerbaijan.
After the outbreak of hostilities on 2 April, which involved tanks, helicopters and artillery in the worst violence since the 1990s, Recep Erdogan, president of neighbouring Turkey, ramped up the rhetoric when he predicted that the breakaway region would one day "return" to its owner.
Much depends on the response of Russia, which sells weapons to both sides and whose national media has been making alarmist reports criticising Azerbaijan and its ally Turkey, a foe of Moscow.
No military incentive
Laurence Broers, associate fellow of the Russia and Eurasia Programme at the Chatham House think tank, told IBTimes UK that the ceasefire reflects the fact there is a military stalemate on the ground.
"I don't really see a military incentive to continue hostilities; conversely there are many dangers with that because (Armenian president Serzh) Sargsyan has threatened to recognise the de facto republic if the fighting continues and a military logic to continued fighting is not really clear."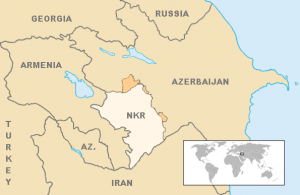 He said that any international agreement among the OSCE Minsk Group meeting in Vienna on 5 April, led by the United States, France and Russia, needed to deal with a security vacuum in the disputed area, which only has six unarmed monitors.
"The danger is that the international community is going to get sucked in, so I really think that there needs to be a reframing of the monitoring mandate of the OSCE.
"It is time for Moscow and Washington in particular to put their heads together and come up with some carrots and some sticks to make it happen," he said.
Political analyst Aghasi Yenokian, director of Yerevan's Armenian Centre of Political and International Relations, told Eurasianet.org that even though Armenia considered Russia an ally, Moscow could step in and use the conflict to assert itself, providing a "serious chance... to resolve the conflict in a Russian way, that is by putting Russian peacekeepers on the ground".
That could pose a problem for Turkey, which has fallen out badly with its former ally after it downed a Russian plane, an act that Vladimir Putin described as one of betrayal. Azerbaijan finds it hard to reconcile its status as an oil-rich republic that is well-armed having 14% of its territory occupied by a smaller and weaker neighbour.
Elkhan Mehdiyev, director of Baku's Peace and Conflict Resolution Centre, told Eurasianet.org that a ceasefire would not be enough. "Peace for Azerbaijan means the liberation of its territory, restoration of its sovereignty and peaceful coexistence [with Armenia]".