Jeremy Renner and Amy Adams have been doing their fair share of globetrotting recently, promoting their upcoming film, Arrival. Most recently, the pair touched down in Britain to take part in a press conference for the film at the BFI London Film Festival and IBTimes UK was lucky enough to attend...
Despite essentially being "an alien movie" at first glance, both stars were quick to state that it goes beyond that and is more of a human-based drama and "insular story told through Amy's eyes" than what you might expect from the genre. Which comes as no surprise given that it was directed by French-Canadian film-maker Denis Villeneuve, the man behind Oscar-nominated crime dramas Prisoners and Sicario.
"When I spoke with Denis, that was the thing that kind of let me know that he was on the same page [as me]," Adams told moderator Danny Leigh when asked about Villeneuve's strong focus on motherhood in the movie. "He saw what I saw within the script. We talked about a bunch of other stuff but at the end of the day, he just said: 'This is a story about a mother, you start the film by speaking to your daughter; by saying her name. So that caught me and I was like 'he's gonna protect the story' and that was important to me."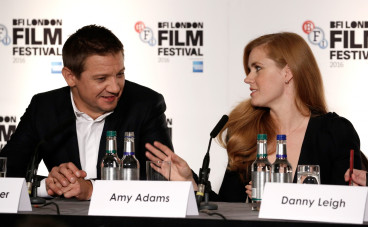 Renner also touched upon how Arrival bucks the trend of a typical sci-fi, as it does not victimise its leading lady. "I mainly did the movie because of my relationship with Amy and I thought the story was great and I thought it was a great role for [her]," he admitted.
"Ultimately, what's lacking in Hollywood is roles like that for actresses of this calibre. Instead of them being victims a lot of the time; you know, they're great movies but I just thought this was a fantastic script that shows a leading woman as a smart... she's a superhero, man, she saves the world, right?"
Adams plays linguistics professor Dr Louise Banks who helps the military translate the communications of a seemingly alien race that have landed on Earth.
"I think women are badass," Renner continued. "This emotional intelligence; this Mother Earth; how she can be compassionate and tolerant and that's kind of what her character is."
Also starring Michael Stuhlbarg (Steve Jobs) and Forest Whitaker (Southpaw), Arrival is released in both the US and the UK on 11 November.
For more entertainment news follow A-List on Twitter @Alistinsider