Arrow producers announced at Comic-Con that the League of Assassins leader Ra's al Ghul would be coming to Season 3.
Ever since the announcement there are reports making rounds about who will play the part in CW's Arrow, and whether they will live up to Liam Neeson's portrayal of Ra's al Ghul delivered in Batman Begins.
In a recent interview with MTV, Liam Neeson said that he wouldn't hesitate to perform the iconic villain one more time.
The Taken star said, "No, I haven't [been asked], I haven't at all. I would [do it], in a heartbeat, if it came my way, yeah. Very much so."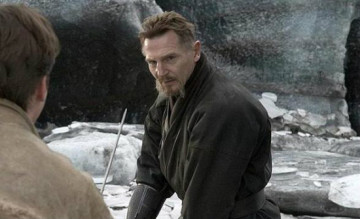 When asked of he had any advice for the actor who does wind up playing Ra's, "they have to believe in their philosophy," Neeson said.
"Ra's al Ghul absolutely believed what he was doing was ultimately saving civilization, and it was quite a good argument he comes up with.
"Throughout the ages this fraternity, that brought the plague to wipe out a section of mankind because it needed to be regenerated again. Very dangerous, but you have to believe it."
The casting description of Ra's al Ghul shows that the showrunners aren't looking to stray too far from Neeson's version. Describing the League's leader as a "major recurring character" may rule someone like Neeson out of the picture.
Although the fans are hoping, whoever does take on the role, whether Neeson or another actor, does have the proper belief in place. They're going to need it to take down Team Arrow.
Arrow Season 3 premieres Wednesday, October 8th on The CW.