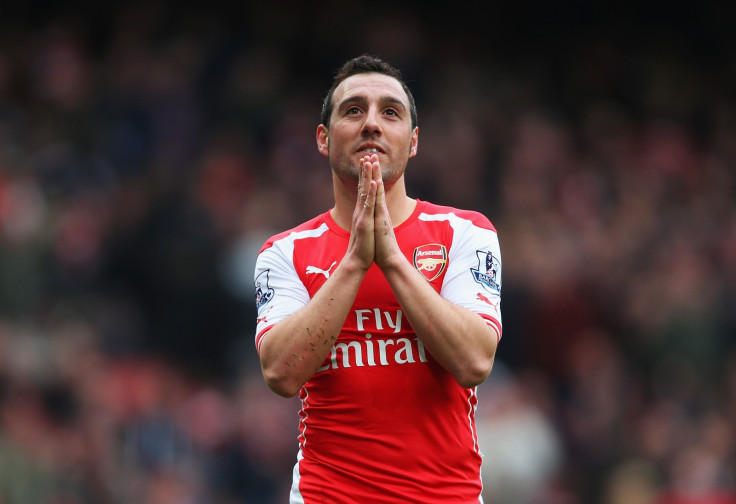 Arsene Wenger has revealed he had doubts on whether Santi Cazorla could adapt to the Premier League but opted to sign the player after advice from Arsenal legend Robert Pires. The 30-year-old Spain international moved to the Emirates Stadium from Malaga in the summer of 2012 for around £15m ($19.9m) after a series of strong performances in La Liga.
Cazorla has since become a crucial member of the Gunners, playing a major role in the two consecutive FA Cup victories. Last summer some reports in Spain linked him with a return to his homeland, but he instead opted to commit his future to Arsenal by signing a new deal.
Wenger has admitted that he was concerned at the time if a 1.68m playmaker would have the physical roughness required to play in English football.
"You could question whether he was physically equipped to play in the tough Premier League," the manager told Arsenal.com. "It's true that I had that doubt, but his quality was so big that I was ready to take that gamble.
"His technical quality, his right foot, left foot, his availability, his vision and the quality of his passing made me go for it. I thought, 'If there is a team in the Premier League where he has a chance to make it, it's with us.' That's why I went for it."
Wenger admits that he had been tracking Cazorla since he was a youngster, and Pires – who played alongside the Asturian at Villarreal – gave him the final push to make the move.
"I think I first saw him when he was about 20 or 21," he said. "He was not a regular player, but in some games we watched you could see he had talent.
"Sometimes I asked Robert, 'Are there any good players there?' He said to me straight away, 'Cazorla is a fantastic player.' So Robert was a scout for me! He at least confirmed the impression I already had about Santi."
Cazorla excelled on the flanks during his first two seasons at the Emirates Stadium, having played there during his whole career. However, Wenger moved him to a more central role last season following the arrival of Alexis Sanchez.
The change has been vindicated, with the Spaniard forming an impressive duo alongside Francis Coquelin. Wenger confirms he plans to keep him in the middle of the park in future due to his advanced age.
"Yes [his permanent role will be in the middle]," added Wenger. "He's at an age where he has experience and where it's a bit more difficult on the flanks. His technical quality, vision and experience are very important central."
Wenger also said Cazorla is a good role model for smaller players who are trying to make it in the rough and tumble of the Premier League.
"It's because of his technical quality and his intelligence. He's a model to watch. If you go out and you watch Cazorla play, you think this is not a player – when you watch him play for Spain – who can specifically be a player for the Premier League," he said. "He's a fantastic example that no matter how tall you are, it's about how good you are. He's a very intelligent player and he also shows how important it is to be right- and left-footed in midfield."