Andrey Arshavin has edged closer to a move away from Arsenal after Galatasaray made an offer of £4million for the midfielder who has struggled to live up to expectations in north London.
The Russia international was allowed to leave the club last season when he was sent back to Zenit St. Petersburg on a short-term loan but it appears as though Arsenal are willing to sell the player on a permanent deal.
Should the Gunners accept the minimal offer from Galatasaray then they would make a he loss on a player that became the clubs record signing when he joined the club in a £15million deal from Zenit.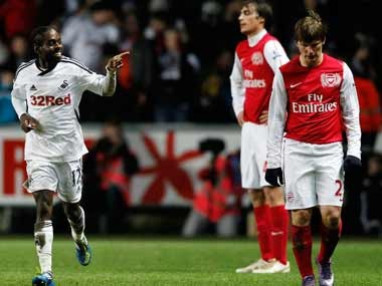 The Daily Mail has reported that the £4million offer is the only option so far, however, Queens Park Rangers manager Mark Hughes is also said to be interested in trying sign the 31-year-old in the coming weeks.
Arsenal are working hard to further strengthen their squad and they may have already found the perfect replacement for Arshavin with Santi Cazorla's signing set to be confirmed within the coming days.
Arshavin has struggled to replicate the form he showed when he first moved to the Premier League and enjoyed unrivalled success as he scored four goals in one game against Liverpool.
Since that first season Arshavin has suffered from a loss of form and confidence, with the Arsenal faithful often voicing their disproval.
It now seems as though Arsenal boss Arsene Wenger is prepared to accept a low offer for the attacking midfielder in order to remove him from the wage bill as he is one of the clubs higher earners at £70,000-a-week.
There is a belief that Arsenal wanted a fee of around £7million, but they may be willing to accept a lower offer as they simply want to push through a deal that sees him leave on a permanent basis.