Arsenal face major defensive problems ahead of a crucial Champions League qualifying tie against Turkish club Fenerbahce. The Gunners travel to Turkey desperate to seal qualification to the group stages of this season's tournament amid continuing concerns over the ability to attract top-class talent and provide a platform to win trophies.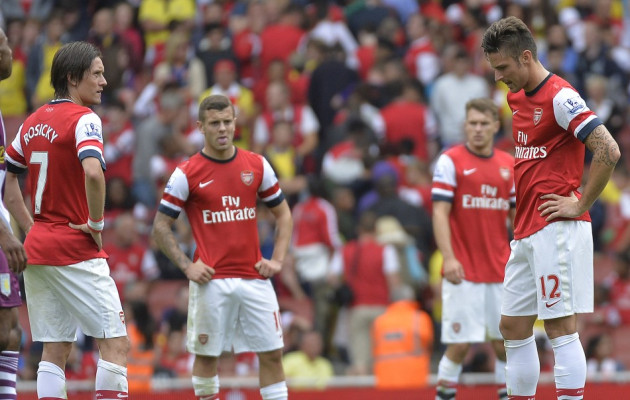 And that feeling was not helped on Saturday night, after Paul Lambert's Aston Villa shocked Arsene Wenger and his men 3-1 in north London. The Villans opened their 2013/14 Premier League campaign in style, after a brace of penalties from Belgian striker Christian Benteke overhauled Olivier Giroud's early strike. New signing Antonio Luna scored the third for the visitors.
Wenger says he has been left disappointed by the poor refereeing in the game and also says he remains confident in the side he has, despite increasing pressure to make at least one big-name signing this summer.
The Gunners and their fans began the transfer season with hope and in excess of £70m in their pockets. However, failed negotiations and slow decision-making led to the loss of several key targets, including Argentina striker Gonzalo Higuain (from Real Madrid to Napoli) and Brazil midfielder Luis Gustavo (from Bayern Munich to Vfl Wolfsburg).
And a raft of injuries to remaining first team players after Saturday's game has put Arsenal's Champions League group stage ambitions into serious jeopardy. Midfielders Alex Oxlade-Chamberlain, Aaron Ramsey and Tomas Rosicky join Spain's Mikel Arteta on the treatment table, where defenders Kieran Gibbs and Bacary Sagna join Thomas Vermaelen and Nacho Monreal.
"Oxlade-Chamberlain, Gibbs, Sagna. Gibbs has a deep cut. Sagna and Rosicky have problems. Wilshere - I don't know how he will respond after the full 90 minutes. Ramsey has a problem after a kick at his ankle. On that front, we have done quite well," Wenger told www.arsenal.com after the Villa game.
"I didn't like his [referee Anthony Taylor] performance, but more than his performance I didn't like his spirit of how he refereed the game. I didn't like the fact the way the game was refereed and this is a deeper question that just one decision. I don't like to lie, I didn't like what he did," Wenger explained.
"The linesman said he to me he did not give the penalty and he was at the level of the tackle, so why does the referee who did not give the penalty straight away suddenly give the penalty? That is what is amazing to me. I would understand if the linesman said it was a penalty, but you have to live with that and just because you get these decisions given against you that doesn't mean you should go on to lose the game," he concluded.