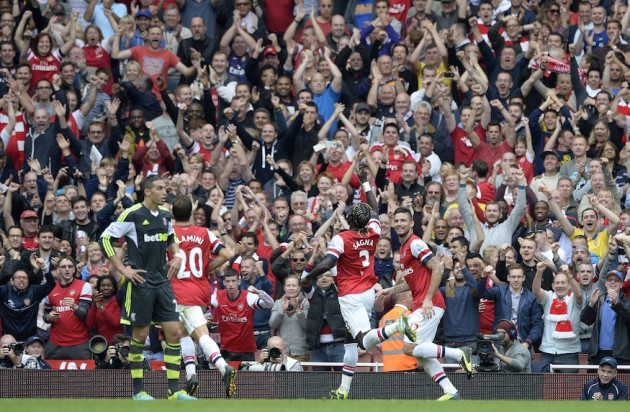 Bacary Sagna has claimed that it was Arsenal's never-say-die attitude that helped them against Stoke on Sunday with the Gunners eventually claiming a 3-1 win to take them to the top of the table.
After a difficult summer and a shock 3-1 loss to Aston Villa on the opening day of the Premier League season, the north London club have turned their campaign around since the signing of Mesut Ozil with four league wins in a row.
And after Sagna helped secure the vital win over Stoke the right back claims that the Arsenal team now have the right character to make this season a success.
"It was a very hard game, very physical," he told the Arsenal website. "We knew it was going to be played until the end of the game and the game was only decided in the second half.
"I think we just have the right behaviour on the pitch. We just give 100 per cent and no matter what happens we keep going and looking forward.
"It's not easy and it's not going to be easy until the end of the season. But at least we're here to fight and today we showed some character again. We'll have to show it more and more.
"We're always together as a team. We show togetherness on the pitch. Even if Stoke had a few chances today, we were strong defensively and we managed to score the chances we created. It's good."
On his goal, Sagna said he feels that his form is improving on account of making quicker decisions and he wants to give back to Arsenal after everything they have done for his career.
"I'm trying to be more decisive," he explained. "Today I tried my luck and it went in. I have to try and be more decisive for my team.
"It's like a gift for the team. When I was injured, they helped me a lot and as long as I can help them, it's good for me.