Arsene Wenger and Mikel Arteta believe that Arsenal should be proud of their effort against Bayern Munich after they came within one goal of qualifying for the quarter-finals of the Champions League.
Arsenal went into the match with a 3-1 deficit and with the second leg in Germany many didn't give the side a chance to progress.
But thanks to goals from Olivier Giroud and Laurent Koscielny, with the latter scoring in the 86th minute, the Gunners were able to make a brave comeback in which Bayern only won the tie on away goals.
Wenger praised his side's spirit throughout the match, admitting it was so unfortunate to go out after a top-class performance.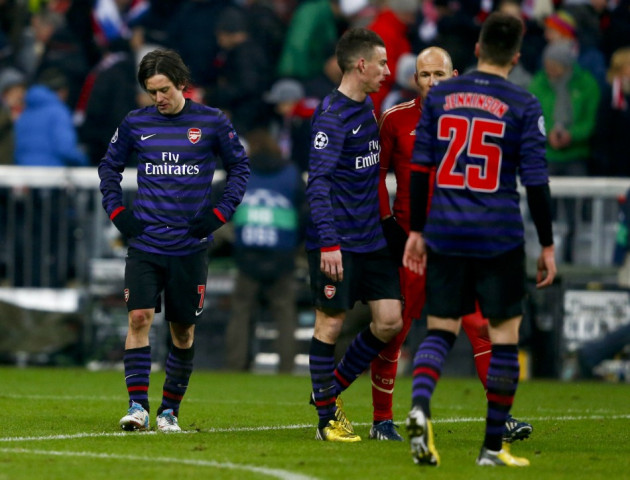 "We were very, very close tonight," he told Sky Sports. "Maybe a few times we were lucky as well, but we had the chance of Gervinho, and there were maybe one or two set-pieces we could have done better.
"But the spirit and the performance was there, and overall we had a great go.
"The regret we have tonight is from the first game. We conceded a very bad goal in the last 15 minutes. If we had lost 2-1 at home, you can see how important that goal is tonight."
Arteta added that he believed the team had given it their all, and hopes the squad will take the win away as a confidence boost for the rest of the season.
"We gave absolutely everything we had in the game," he explained. "We knew we had conceded three goals at home and it was going to be difficult, but we kept going and we kept believing.
"It was mentally a very difficult game to manage tonight. When we scored the first one they didn't look very convincing and we tried to take advantage of that. We scored a second one at the end and maybe with 10 minutes more we would have had a better chance.
"Coming here, not many teams win here. They have shown that they are a top side in Europe this season, so the lads deserve credit and the boss as well because he believed from the start that we could do it. We tried our best."