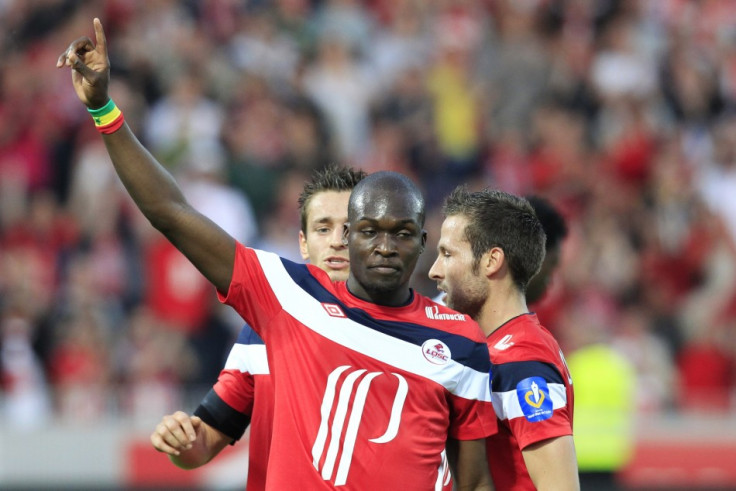 Lille striker Moussa Sow has admitted it would be a dream to play in the Premier League and he would relish a move to Arsenal.
Arsenal continue to be linked with a host of strikers despite the stunning form of Robin Van Persie and their recent revival in the race to finish in the top four.
Arsene Wenger is believed to be looking at a number of forwards capable of alleviating the goal scoring burden currently shouldered by the aforementioned Dutchman and the Senegalese forward admits recent unsatisfactory contract negotiations with Lille have heightened his desire to play in England and in particular Arsenal.
Marouane Chamakh appears on borrowed time at Arsenal following an underwhelming 12-month spell at the Emirates, and while Chu-Young Park is still finding his way in English football, Arsene Wenger is allegedly looking at possible targets ahead of next month's January transfer window.
Wenger was believed to have monitored Sow last season when Arsenal were rumoured to be watching Eden Hazard and of course Gervinho, and the 25-year-old France born Sow has intimated he will not be signing a new contract at Lille.
The reputed Arsenal target has scored 29 goals in 48 league games for Lille since signing on a free transfer from Rennes in June 2010. The athletic centre-forward was schooled at the Clairefontaine academy and Arsene Wenger has been aware of the outwardly mobile centre-forward for the best part of five years.
Last month he was rumoured to be attracting the attentions of Liverpool, but Sow admits a possible transfer to Arsenal remains an enticing proposition.
"I have a contract signed until June 2013 and Lille want me to sign another one but the negotiations have stopped." The 25-year-old Arsenal target told French radio station RMC Sports.
"I don't accept the conditions or the silence from the club. That's not me putting on pressure, just the truth.
"I'm only thinking about football and it's not possible to leave in January.
"But my dream is to play in the Premier League because you progress as a player with the atmosphere, goals and game.
"I watch the games with envy on TV. I desire to play there one day. Arsenal are a big club but we will see."