Carl Jenkinson has praised Steve Bould's work with Arsenal's defensive line-up, with the youngster claiming that the midfield have also become better at being able to fight back when opposition attacks.
The Gunners have had a successful start to the season so far, particularly considering the fact that they lost Robin van Persie and Alex Song in the summer transfer window.
Draws to Sunderland and Stoke left some questions over whether the side had the scoring power to take three points, but a convincing 2-0 win over Liverpool put Arsenal in favourable terms with the fans.
And Jenkinson has given special mention to Bould, who came into the Arsenal fold in the summer and has since worked the back line-up into a massive challenge for any opposing side.
"Steve [Bould] has come in and he's been there and done it. He's always there giving us advice and tips, and we've had a long pre-season to work together and get our shape right," he told the Arsenal website.
"A lot of credit goes to the midfield too. If you look at our midfield today, the midfield three, and the wingers, they were outstanding in their defensive duties. It wasn't just a back five, the whole team defended brilliantly and I think that's what's making the difference at the moment.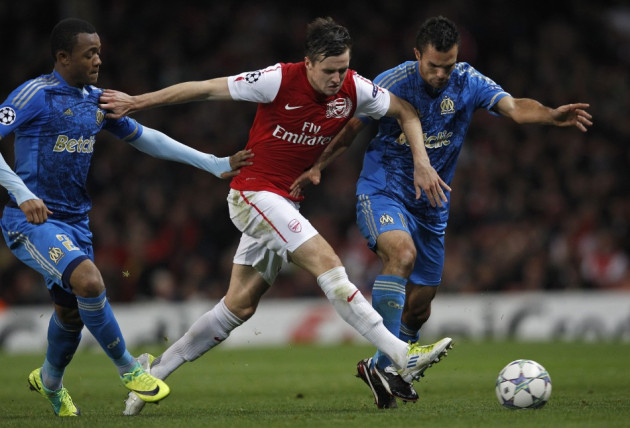 "Mikel Arteta had everything in his game [on Sunday]. He kept the ball for us, he was making breaks forward. Defensively he was fantastic. I remember him putting in two or three excellent tackles and it makes a big difference.
"You need that shield in front of the back four and I think we're doing that fantastically at the moment and it's showing in our results."
Jenkinson was particularly disappointed with not being able to get three points on the board for Arsenal until the Liverpool match, but the 20 year old believes that the side have now shown that they can challenge for trophies this season.
"After the two results we had, they weren't ideal and like I said before the game, if we win at Anfield, it would be a big statement of intent," he explained. "We've gone and done that and shown we mean business.
"It's a good result and we're really pleased with it. We'll move onto the next game, it's only three points and we want to push on from here.
"Maybe people were questioning us after the first two games, but we knew in ourselves that the goals would come and we've come to Anfield, which is no easy place to pick up three points, and we've won 2-0."