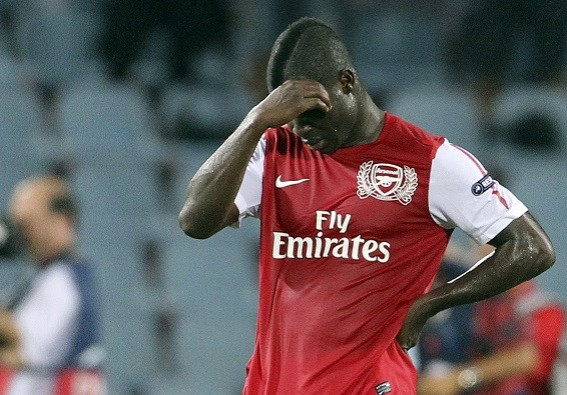 Arsenal player Emmanuel Frimpong has caused a Twitter storm after appearing to blame racism for him not getting enough games.
The 21-year-old caused a stir among his large army of online fans by posting the message "Sometimes I wish I was white and English #realtalk."
Frimpong may face a talking-to by the club for his reckless tweet, according to an insider, with the possibility of disciplinary action not ruled out if he was found to have fallen short of Arsenal's social media policy.
A source told IBTimes UK: "The players all get training on using social media and most of them follow it pretty well."
Frimpong's tweet followed a question from another user about why he was not in the squad to face Chelsea tonight (Tuesday).
Before sending the tweet, Frimpong had tweeted: "LOL I wanna laugh."
Then he posted the message which ignited huge interest among users. Frimpong later strongly denied he was relating his absence from the squad to racism. He told followers: "Not every tweet is football-related."
In a follow-up tweet, he said: "Look, whatever you read tomorrow has majorly been twisted. Is a joke what people will do to start controversy. Goodnight people."
Arsenal boss Arsene Wenger has a long record of fielding players of assorted colour and has also coached around the world.
Frimpong has struggled for first-team action this season and Arsenal hit top form with him in midfield. He had an injury-hit spell on loan last season at Wolverhampton Wanderers and Fulham.