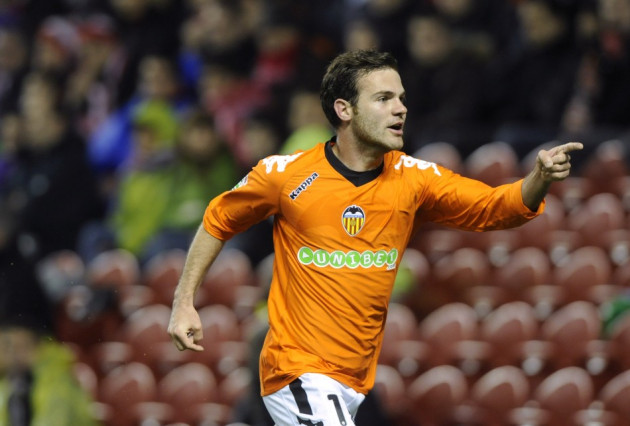 Arsenal are ready to spend almost £30m on Valencia winger Juan Mata and Brazil's Jadson as Arsene Wenger prepares for life without Cesc Fabregas and Samir Nasri.
Wenger has attracted criticism after claiming he expects "nobody to leave Arsenal" during the transfer window. Fabregas and Nasri are widely reported to be on the brink of moves to Barcelona and Manchester City respectively, but the Arsenal manager dismissed speculation surrounding the pair and insisted they would remain at the Emirates.
"I expect nobody to leave,'' Wenger said. "The best thing for us one day before the championship starts is not to focus on possible transfers. At the moment there is no news. If there is news I promise I will give it. I will decide what's best for the club."
Both players have been omitted from the club's Premier League opener against Newcastle but Wenger said there was nothing untoward about the decision:
"He [Nasri] has had a sickness. No other issue ... Cesc is not injured, he's not match fit. I don't want to go any deeper than that. "
However, negotiations are believed to remain on-going over both Fabregas and Nasri, with Wenger admitting on Thursday that he now expects Fabregas's future to be decided "very quickly".
Fabregas is finalising a £35m return to Barcelona while Nasri is close to a £23m deal with Manchester City.
A senior source at the club told BBC Sport that all funds generated by the sales will be reinvested in new players, with almost £60m potentially available to spend before the transfer window shuts in three weeks' time.
A bid for the Valencia winger Juan Mata is expected and negotiations are under way with Shaktar Donetsk over the possibility of signing the attacking midfielder Jadson.
Mata, 23, has been linked with Arsenal all summer and Wenger remains confident of concluding a deal despite the expiry of a release clause in his contract that would have allowed him to leave for £18m.
However, negotiations are likely to be complicated by Valencia's reluctance to sell the Spain international for less than £30m.
Mata, a left-sided midfielder, is a like-for-like replacement for Nasri while Jadson is viewed as a long-term replacement for Fabregas in the centre of the park.
The Brazil international is admired for his technical skills and is believed to be available from Shaktar for around £10m.
Wenger also remains keen to bring in an additional centre-back, with a formal offer for Birmingham's Scott Dann expected this weekend.
The Frenchman is determined to strengthen his defence ahead of the new campaign and has been closely watching both Dann and Bolton's Gary Cahill.
However, Dann has been identified as Wenger's primary target after he admitted his interest in the 24-year-old.
"He [Dann] is one of the centre-backs we look at," Wenger told Arsenal's official website.
Lille forward Eden Hazard and Marseille's Mathieu Valbuena have also been linked with the club, as well as Real Madrid's Karim Benzema but all three have expressed a desire to remain with their respective clubs.
Instead, Wenger sent scouts to watch Anderlecht midfielder Lucas Biglia and Red Star Belgrade's Milan Vilotic last week, with Shaktar Donetsk playmaker Willian an additional target.