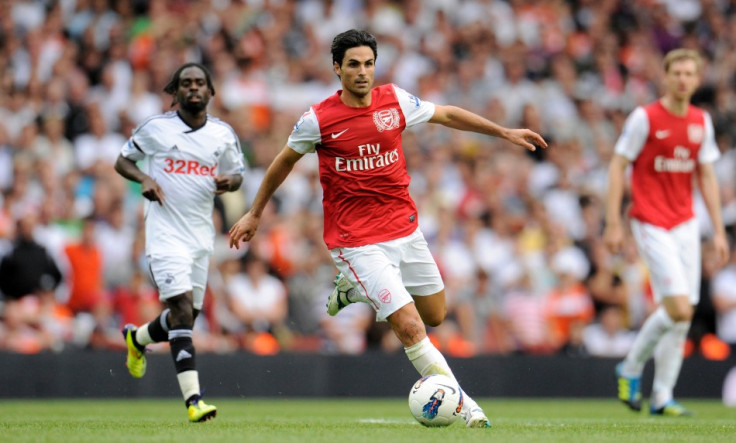 Mikel Arteta has revealed that Arsenal signed him because they wanted to bring an 'experienced, creative midfielder' on board at the club, to help cope with the loss of Cesc Fabregas.
Arteta was a part of Arsene Wenger's massive intake at the last minute of the summer transfer window, with Andre Santos, Per Mertesacker, Park Chu Young and Yossi Benayoun also joining the club as deadline day rolled around.
The former Everton star, who joined the club for a reported €12 million, has taken his time settling into the Arsenal way of life, but has displayed improved form to take the Gunners back into contention for a Champions League spot.
And Arteta has now revealed the reasons why he left the Toffees, with the Spaniard admitting that he wanted to try playing for a club that could compete for trophies on all platforms.
"[Arsenal] made it clear they wanted me because they needed an experienced, creative midfielder," he explained. "Someone who could fit in quickly in the Premiership.
"For me it was the chance to stay in England, move to London, try a bigger club.
"And a club that wants to play football all the time. I am from the Barcelona school and the football here is the most similar."
Arteta insisted that he was prepared for the pressure of playing for a top four club, and that he would be compared to the departed Cesc Fabregas.
"I knew there was going to be pressure. With some of those players leaving and others coming in there will always be a discussion about who is better," he said.
"But at the same time I thought I will have the chance to help the team and improve it.
"Obviously two of the best players have gone and it is different. We cannot try to be the same as them, that would be a big mistake.
"[Cesc] Fabregas was here for eight years. He is a legend, one of the best midfielders I have played against. Trying to compare yourself with them is never going to work.
"It is impossible from day one. So just try to play your own game, improve the team and try to fill those holes."
The 29-year-old says he still takes inspiration from his days in Barcelona's youth academy - Arteta spent seven years with the Catalan giants before making the move to Rangers in 2002.
"[Barcelona] prepare you as a person and as a footballer," he said. "The way they do it is really interesting. You see it in the characters as well.
"Talk about Iniesta, Xavi, [Carles] Puyol - nice people. Great players but very, very respectful people. For me the best thing to learn from is an example.
"We had [Pep] Guardiola, [Guillermo] Amor, [Jose] Bakero and when you see these examples you want to be like them.
"All the young lads now are going to have Iniesta and Xavi as examples and now Thiago [Alcantara] is coming. The ball keeps rolling. It is such a clever method."