Who is Hector Bellerin:
An attacking right-back that made the bold move to turn down a new contract at Barcelona in favour of joining the Arsenal youth ranks. The 17-year-old came through the famed La Masia academy where he was viewed as another exceptional talent that would could one day challenge for a place in the first team.
Instead Bellerin has excelled since officially becoming a member of the Arsenal youth team in the summer of 2011 and is hoping his performances will soon catch the eye of first team manager Arsene Wenger. Having represented Spain at Under-16, 17 and most recently Under 19 level, the defender admitted that it was a meeting with the Arsenal boss that convinced him to make the move to north London.
"I met Mr Wenger and it went so well," admitted Bellerin. "It was all too much for me but I paid full attention to everything he said. When there is a team that guarantees you can play in the first team and above all in the Premier League, then it is very difficult to say no."
Having begun his career as a winger, Bellerin has been converted into a marauding right-back by youth team coach Terry Burton and is now a regular in the NextGen series, the Under-21 Premier League and in the FA Youth Cup. He has already been in the first team squad this season, against Coventry and Reading, and will be hoping he can emulate the achievements of another former Barcelona youngster, Cesc Fabregas, who left the Catalan side at the same age and went on to become a hero at Arsenal.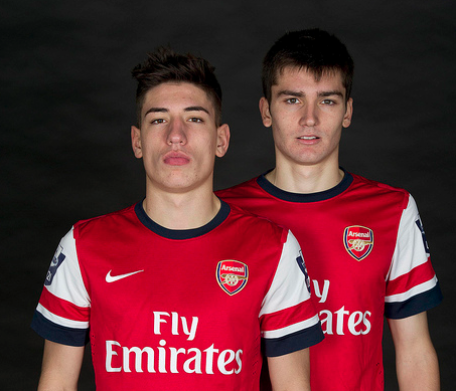 Bellerin on......pushing for first team football.
"I've had such a good start I hope the season continues as it has and finishes as good as it started. I was called up to the first team for the Carling Cup squad against Coventry and I was on the bench and part of that amazing 7-5 win away to Reading. At Arsenal they prepare you to be a professional from a young age and that will certainly help me in my career.
Bellerin on.....adapting to life as a defender.
"I'm still learning about being a full-back, but whereas I was anxious and worried about the role, I'm now growing in confidence every day. I now feel like I am a right back, but have retained the attacking qualities of a winger."
Bellerin on....training with the first team.
"Everyone is so helpful and to an extent that I could never imagine. They made me feel like I belonged and particularly the other day when I was playing in a game and Tomas Rosicky was on the wing against me. I tried to defend against him in a manner which was not the best way. He came over to me and tried to show me the best way of stopping him play, what I could do to improve and make sure he does not beat me next time. He was so willing to help me and pass on his experience that I appreciated so much. That's just one example of how we have a special bond at Arsenal, whether you are a young player or regular first team player, it really feels like a family."
Bellerin on....why he loves Arsenal.
"I was watching in the crowd the night that Thierry Henry made his scoring comeback against Leeds in the FA Cup. The reception he got from the fans overwhelmed me and that was the night when I really fell in love with this club. I would not want to be anywhere else."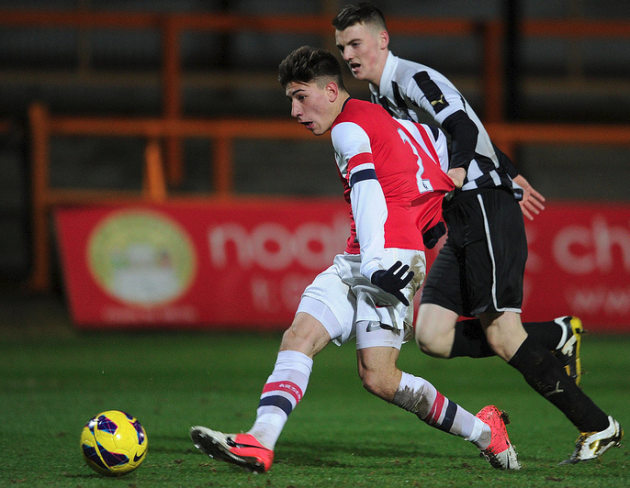 Strengths:
As a former winger it is Bellerin's ability to maraud down the right flank, due to his outrageous pace and engine, that makes him so dangerous. He says he styles his game on Cafu and there are glimpses of the Brazilian legend in the Spaniard's game. His experience as a winger gives him a better understanding of what he's facing as a full-back while a willingness to overlap and hold his width also makes him a nightmare for the opposition.
Weaknesses:
Bellerin admits that he must improve his heading, a vital part of the game as forwards often attach themselves to fullbacks when the ball is delivered into the box, while his left-foot also needs some work. Like many attacking full-backs his tackling will also need improving as shown in a NextGen game against Olympiacos when he received a second bookable offence for a poorly timed challenge on the edge of the area. Like many full-backs he can often be found out of position, especially when his eagerness to get forward takes over, so he will have to learn to pick his choose his moments to attack.
Will he be a success at Arsenal?
Bellerin has all the qualities needed to be a successful full-back in the modern era. He's athletic, powerful, quick and believes in his own ability. His first thought is to attack but working under Burton he is steadily improving defensively and has already caught the eye of Wenger, despite being just 17. The experience of playing in the NextGen series against players from across Europe will further help his development, as will appearing in the Under-21 Premier League.If he can continue to develop and take on board the comments of his fellow professionals and coaches, then there seems no reason why he cannot force his way into the reckoning. With Carl Jenkinson just a few years older than the talented Spaniard, Wenger may soon have the [nice] problem of picking between two outstanding young defenders.
Special thanks to the Arsenal media team for the additional content provided and if you want to see the Arsenal youth team in action then check out their FA Youth Cup 5<sup>th round game vs Everton at Underhill on February 18 - KO 7pm (tickets £3 adults, £1 concessions).