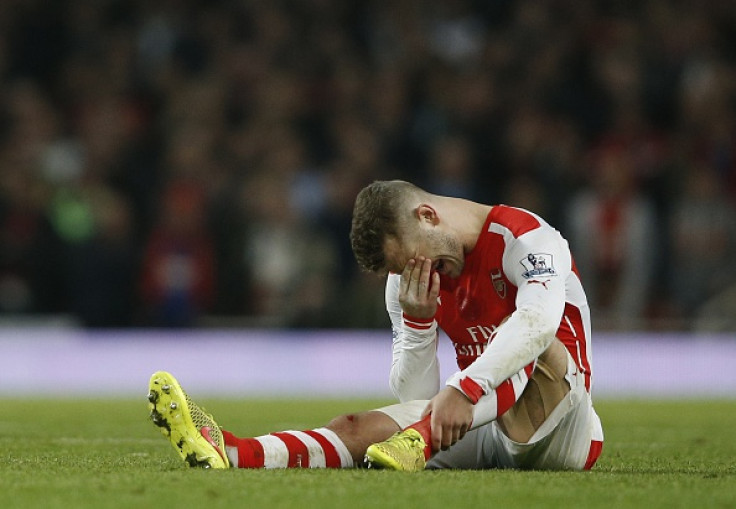 Arsenal are set to welcome Jack Wilshere back before the end of the season after the midfielder stepped up his training, and is set to make a return for the U-21s against Newcastle next week. The 24-year-old has not kicked a ball this season owing to an injury to his fibula but is now raring to make an impression in the first team and force his way into Roy Hodgson's squad for the European Championships in France later this year.
The Mirror reports that Wilshere is set to resume full training, which will come as a massive boost for Arsenal, who have been without their star midfielder all season. The Gunners have eight games to play and 11 points to make up on Leicester City, which despite being a distant possibility, is not impossible if Arsene Wenger has his best players fit.
The Gunners are currently without Santi Cazorla, Alex Oxlade-Chamberlain, Aaron Ramsey, Tomas Rosicky, Mathieu Flamini and Mikel Arteta in midfield, a harrowing injury list that has undermined their season. Wilshere will bring some much-needed drive into an otherwise static Arsenal midfield, which only has Mohamed Elneny and Francis Coquelin deemed fit for a holding role.
Hodgson has specifically mentioned his desire to pick Wilshere for the England squad despite having players such as Danny Drinkwater and Eric Dier in better form. The England international won four back-to-back man of the match awards while playing for the Three Lions before his injury and the manager believes he brings more balance to the squad. Danny Welbeck is another Arsenal player who is likely to make the team, while Theo Walcott's form has made it difficult for him to make it.
"Our information from Arsenal is that he (Wilshere) will be back in good time," Hodgson told Drivetime. "He is not guaranteed a place in the squad but I think his past performances merit a place in the squad.
"I think he played four games on the trot (for England) and was man of the match in all of them. He is a very decisive player for us, even to such an extent that he has changed our style of play. He can get the rest of the team playing and make things happen," he added,
Meanwhile, a lot of ex-players have refuted Hodgson's faith in Wilshere and wants him to pick a squad on form and not pedigree.