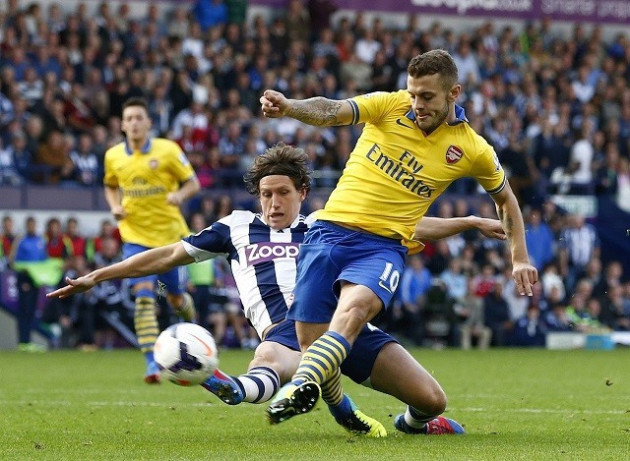 Arsene Wenger has revealed that Arsenal will welcome back Theo Walcott into the squad against Southampton while Jack Wilshere has also shrugged off an ankle injury he suffered during international duty.
Walcott was out for close to two months with an abdominal problem for which he had to undergo surgery. His return will increase Arsenal's potency up front and allow them to work the wings, something which they have failed to do in recent weeks.
His runs on the back of the opposition's defence will suit Mesut Ozil who showed glimpses of the potential of their partnership against Sunderland, where Walcott, if not for his profligacy could have managed a hattrick and taken Arsenal out of sight.
Walcott's return means that Wenger has only four players on the sidelines with Lukas Podolski expected to return to the squad shortly. Alex Oxlade-Chamberlain, Yaya Sanogo and Abou Diaby are long term casualities and are expected to return next year.
The Gunners already have a wealth of talent in midfield and their return will increase their strength in depth as they look to put in a proper challenge for the title.
"He is one of the players who goes behind [the defence] without the ball. Strikers who get behind the defenders is a very important quality and Theo [Walcott] has that quality," Wenger told www.arsenal.com.
"Of course you miss a player like Theo Walcott. Theo had a good start to the season, he scored goals, he provided chances and had assists. He can always give you a different option in the game and that is of course vital.
"You always want to have a perfect balance [in attack]. If you look at our results our balance was not too bad. But Theo has different qualities to other players and I am very pleased that he's back," he explained.
Meanwhile, Wenger also confirmed that Jack Wilshere, who was feared injured, has come back unscathed from international duty and is in contention to start against the Saints. He also brought an end to the speculation stating that he is dissatisfied with the FA for overplaying Wilshere.
"First of all Jack is not injured, that was not the right information. Secondly, I have no problem with the FA, they respected completely what they told me and it was [for Wilshere] to play in one game and be on the bench in the other," Wenger said.
"They did that very well. So there is no misunderstanding there. Exactly [they did what we agreed]," he concluded.