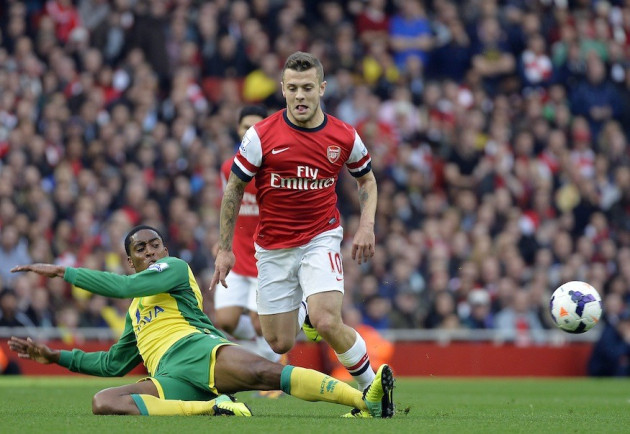 Arsene Wenger has given an update on Jack Wilshere's injury, admitting that the midfielder has no chance of featuring for Arsenal in their Champions League match with Borussia Dortmund tonight.
Wilshere has been out of action since the Gunners' defeat at the hands of Chelsea in the Capital One Cup, with the England international hurting his ankle during training in the week after the match.
He missed the win over Liverpool at the weekend and whilst he still has a chance to play against Manchester United this Sunday, Wenger says further testing will need to be done to determine whether that's possible.
"He [Wilshere] has not travelled and I will know more on Thursday when we have another test," Wenger told reporters in Germany.
"If that is not successful he will be out for Sunday. If he is out on Sunday he will be out for England [internationals] as well."
England face Chile and Germany in back-to-back friendlies on November 15th and 19th respectively. Having already qualified for the 2014 World Cup Wilshere is unlikely to be greatly missed by the Three Lions but his presence with Arsenal this season has had a big hand in keeping the club at the top of the Premier League table.
Arsenal face a tough trip to Dortmund without Wilshere but Wenger will be hoping that the likes of Aaron Ramsey, Santi Cazorla and Mesut Ozil and continue their fantastic early season form.
However, it will not be easy against the high-flying German side who have the eccentric Jugen Klopp at the helm.
The Dortmund boss admits he is a fan of the football Arsenal play, but believes his side play with an even more attractive style: "[Wenger] likes having the ball, playing football, passes.
"It's like an orchestra, but it's a silent song, yeah? And I like heavy metal more. I always want it loud! I want to have this: 'BOOM!'
"If Barcelona's team of the last four years were the first one that I saw play when I was four years of age - with their serenity, winning 5-0, 6-0 - I would have played tennis.
"Sorry, that is not enough for me. What I love is that there are some things you can do in football to allow each team to win most of the matches.
"It is not serenity football - it is fighting football. That is what I like. What we call in German 'English football': rainy day, heavy pitch, everybody is dirty in the face and they go home and can't play football for the next four weeks. This is Borussia."