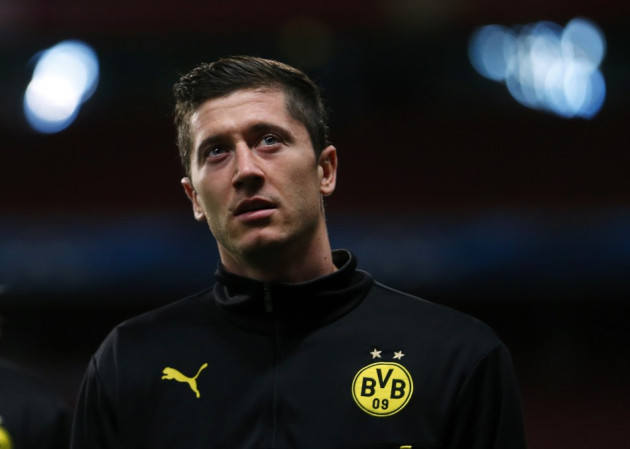 Borussia Dortmund are keen to prevent star striker Robert Lewandowski from joining Bayern Munich at the end of the season and are prepared to offer his services to Premier League clubs in January.
The Poland international is out of contract at the end of the season and has dismissed the idea that he has already agreed to join Bayern, while he also revealed he would be keen to make the move to England.
"I will be able to sign a contract [with any club] in January, but I have never said that I will sign a contract with Bayern," revealed Lewandowski before Poland played England in a World Cup qualifier earlier this month.
"It is true I had an opportunity to speak with Sir Alex Ferguson [last year], but we didn't mention the transfer. One day I would like to play in Premier League. It would be a great experience."
Manchester United were known to have an interest in the prolific forward when Sir Alex Ferguson was at the helm, but there is a belief that there will be strong competition for his signature from Arsenal.
The Gunners know from first hand experience how lethal Lewandowski can be in front of goal, with the 25 year old scoring the winner as Dortmund beat Arsenal 2-1 at the Emirates last week.
While Arsenal currently sit atop of the Premier League table, there is a shortage of forward options available to manager Arsene Wenger. Olivier Giroud has been in excellent form but there is little in reserve with only Nicklas Bendtner and the untested Yaya Sanogo competing for a starting berth.
Wenger is desperate to finally bring an end to Arsenal's long wait for a trophy and the addition of Lewandowski in January would certainly provide a major boost.
The Express reports that the north London club would only have to part with £7m to land the former Lech Poznan striker as Dortmund are determined not to sell the forward to a Bundesliga rival.
Lewandowski would certainly be a major asset to any Premier League side having demonstrated his ability on both the domestic scene and in Europe where he has excelled in the Champions League.
However, there may well be competition for his signature as Manchester United may well decide to make an offer after a difficult start to the season, while Chelsea have also been mentioned as possible suitors.