Arsenal goalkeeper Lukasz Fabianski is begging the club to allow him to leave during the summer transfer window.
The Polish keeper is behind Wojciech Szczesny in the pecking order at the Emirates Stadium, and having not played a single minute in the Premier League this season, there appears no prospect of him becoming first choice in the near future.
His fellow countryman has enjoyed a superb season between the sticks, leading Fabianski to believe that his time at Arsenal is running out.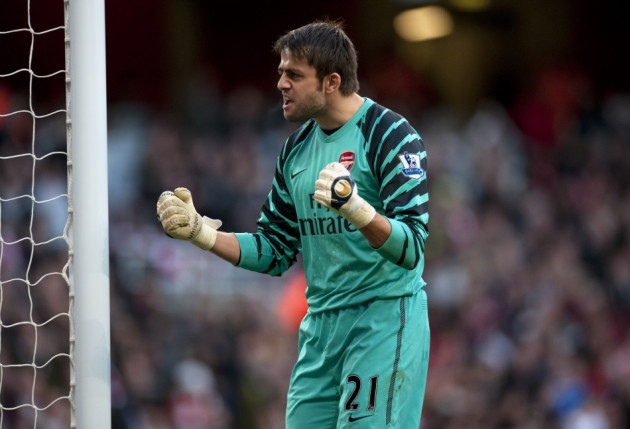 "I hope that my adventure with Arsenal has come to an end," he said.
"I intend to leave and play in a strong league.
"I wanted to leave in the winter, too, but Arsene Wenger did not give a green light."
With Manuel Alumnia set to leave the club this summer also, Vito Mannone, who spent much of the season on loan at Hull City, is set to become the club's No.2.
Bar Robin van Persie, who netted 30 goals in the Premier League this season, Szczesny can claim to have been the club's most consistent performer over a season which ebbed and flowed.
With first-team opportunities having been limited to Arsenal's domestic cup campaign and one Champions League outing, Fabianski is likely to look for a move away from the Premier League side.
The 27-year-old will make up part of Poland's squad for the summer's European Championships, however will see his club teammate steel the limelight in goal.
He'll be keen to grab any opportunities during the summer with both hands, with a chance to thrust himself into the shop window; performances that are likely to dictate where his future lies.
Fabianski might not be the only Arsenal player to leave this summer, with Marouane Chamakh and Andrey Arshavin's restricted appearances, the latter of which spent the second half of the season on loan at Zenit St Petersburg, leaving them surplus to requirements.
The Moroccan Chamakh, who made one Premier League start this season, could be frozen out next term, with Lukas Podolski set to join the club this summer.