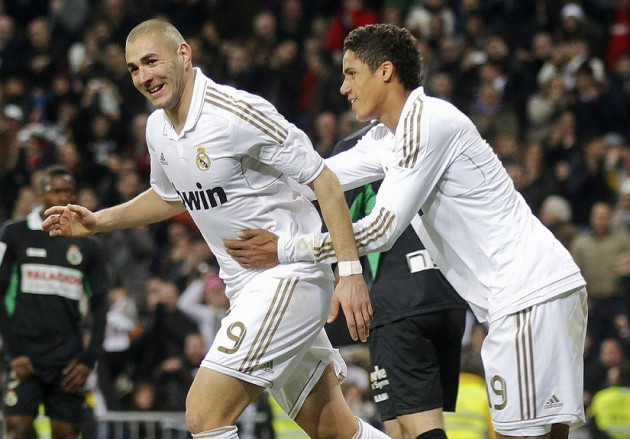 Arsene Wenger will attempt to convince Real Madrid duo Karim Benzema and Raphael Varane to make the move to Arsenal in January.
Fifa agent Francois Gallardo claimed that Wenger is "obsessed" with the two French superstars but admitted that it would be difficult for the north London club to convince Madrid to part with the first team regulars.
"Arsenal want to reinforce in the winter and will go for Benzema and Varane," Gallardo told Spanish publication Punto Pelota. "Karim is the darling of Wenger, who is obsessed with him and Raphael, but the deal will almost unworkable."
The Gunners were heavily linked with a move for Benzema over the course of the summer but Madrid would not allow the striker to leave, instead deciding to part with Mesut Ozil who made the move to the Emirates.
Ozil has helped Wenger's side make an impressive start to the season as they currently sit atop of the Premier League table, while victory over Borussia Dortmund means they are in charge of their own fate and should qualify for the knockout stages of the Champions League.
Arsenal have been linked with several strikers in recent weeks but it would be extremely difficult to convince Madrid to part with Benzema as he remains first choice under manager Carlo Ancelotti.
French defender Varane would be similarly difficult to pursue as the 20 year old is viewed as one of the most talented young players at Madrid and is already a regular in the first team.
The former Lens centre back made some 33 appearances for Los Blancos last season and will undoubtedly be viewed as a key player for the side for many years to come.
While it seems unlikely that Arsenal would manage to sign both players, Wenger may well attempt to lure one of the duo away from Madrid as he seeks to further strengthen his squad and finally end the club's long wait for a major trophy.
Neither player would come cheap and Arsenal may well have to be prepared to bid a similar amount to the £42m that eventually secured the signature of former Madrid midfielder Ozil.