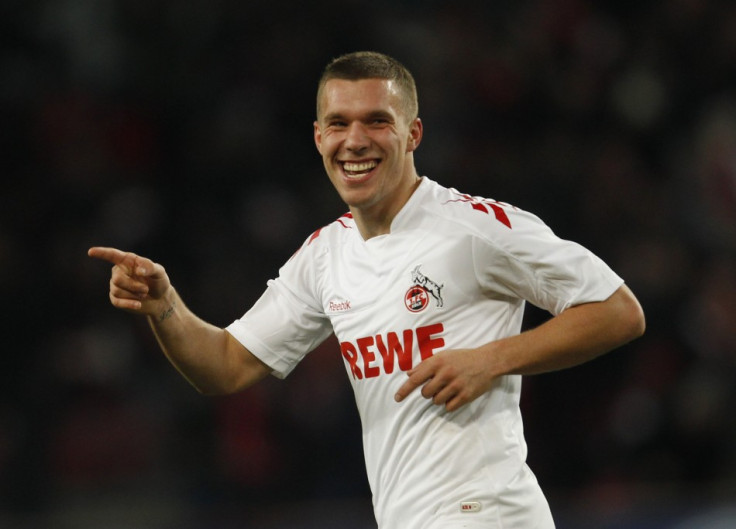 Reports have it that Arsenal are preparing a £10 million bid for FC Cologne star Lukas Podolski after the player's rumoured bust-up with the German club's director of sport Volker Finke.
The Gunners have been linked with the 26-year-old German star for a long while, as they look to increase their firepower up front and relieve the pressure on captain Robin van Persie.
With Marouane Chamakh and Gervinho set to depart for the African Cup of Nations at the end of January, the Gunners will be dangerously short of players up front. A two-month loan deal for club legend Thierry Henry has served to address that problem, but it is Podolski who could prove to be the more decisive signing.
The German international has scored 14 goals in 16 games so far this season and a possible combination up front with Van Persie, himself in great goal-scoring form, can shudders through the opposition defenders.
With Podolski's contract at Cologne expiring in the summer of 2013, Cologne have slammed a fee of £12.5 million on the player. However, there is room for negotiation, especially after the reported bust-up with Finke, which could speed up his exit.
The German club's managing director almost confirmed the rift saying, "The two don't have to love each other, but they must respect each other and trust each other."
Arsenal defender Per Mertesacker, who is Podolski's international team-mate, added his support behind the move.
"He scores a lot of goals, he's a good striker with a very good left foot," he said. "His left foot is unbelievable and I'm a fan of his. This year, he has scored a lot of goals. He is powerful as well he's a great player."