If Arsenal were a bank, Arsene Wenger would be hailed as a miracle-worker and would have a job for life. They'd be swimming in oceans of profit, and would be hailed as a best-practice example for everyone else to follow. The shareholders would be brimming with pride and joy.
But this is not a bank. It's a football club, and the shareholders – the supporters – are being badly short-changed by their manager.
If Arsenal ever want to return to the sort of dominance they enjoyed a decade ago, Wenger has to go. He's not the man to overhaul Chelsea at the summit of the Premier League, and last night showed that he'll never win the Champions League.
This is the fifth year Arsenal have stumbled at this stage of Europe's elite tournament, and each of the previous four defeats were inflicted by teams far superior to Monaco. The defeat just showed that Wenger hasn't got the players you need to win major tournaments. He hasn't got a leader in defence, a Vincent Kompany or a Nemanja Vidic, and he hasn't got a Patrick Vieira-like player in the middle of the field.
Over the last few years Wenger seems to have been obsessed with this utopian vision of football, a team of 11 playmakers. Even though the great sides of his early reign were built around men like Vieira, Manu Petit and Tony Adams, he seems to have decided this sort of player is old-fashioned. But you still need steel as well as silk to win the Premier League and Champions League.
Instead of signing the players who will front up against the best, the manager continues to stockpile creative lightweights. When he signed Mesut Ozil, for instance, there was no real need for him; they already had Santi Cazorla to do that job, not to mention Tomas Rosicky. I wouldn't bet against him signing another flair player this summer, even though the priority areas clearly lie elsewhere.
They're best in the world at winning meaningless games
There's also a mentality problem there, and again that partly stems from the shortage of genuine leaders in the Arsenal squad. They're the greatest side in the world when there's no pressure to go out and play. Last night typified that; the pressure was off, so they went out and dominated. But when the pressure was on at home, they stumbled. It's typical of Arsenal - a story of glorious failure, an aesthetic victory but ultimate defeat.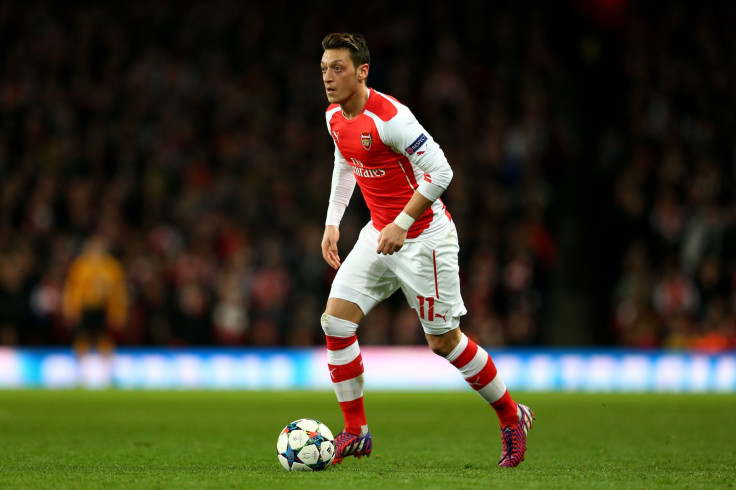 What do the Arsenal fans want? If they want consistent top-four finishes delivered with flourish and elan, Arsene Wenger is the man. But if I was an Arsenal fan, I'd feel like the manager was selling me short. Arsenal season tickets are the most expensive in world football, yet they don't consistently pay the sort of wages that will entice world-class talent, and the money they do spend in the transfer market is often wasted on follies and indulgences.
The Arsenal board should be saying to Wenger 'thanks Arsene, you've done a wonderful job here, we'll always treasure what you've done for us' and then move him on. A manager can only survive on sentiment for so long. The Arsenal board should be looking to recruit the best manager in the business, and for me there's only one man who can take that job.
Diego Simeone may purvey a slightly earthier brand of football than Wenger. His teams may not offer the sort of style Arsenal fans are used to. But surely, after so many years of failure, they want someone who can win trophies, and the Argentine is proving he can do that consistently.
Simeone would come in and change the whole mental attitude of that football club. He'd introduce a culture of defending from the front, and building from the back. He'd get the best out of every single player, encouraging them to perform way above the boundaries of their ability. And, given he has pulled off top-class signings such as Antoine Griezmann and Mario Mandzukic at Altetico Madrid, he'd rectify Arsenal's failures in the transfer market.
Perhaps most importantly, he'd give Arsenal some balls. Wenger has turned Arsenal into the purist's choice, the team everyone loves watching but no-one fears. Simeone would change that overnight.
Arsenal fans are hurting this morning, but they're actually in a very good place as a club. The stadium is paid for, there's bags of money in the bank, they've got a bunch of good young players and they're on course to get into the Champions League again. In the era of FFP, they're extremely well-placed, and whoever follows Wenger will have everything he needs to return the club to dominance.
But this culture of glorious failure has gone on too long. Wenger has built Arsenal into the perfect club for the Financial Fair Play age. Now it's time for someone else to cash in on his good work.
Jason Cundy was a hero at Stamford Bridge as a no-nonsense centre-half during the early 1990s. Today he presents the popular Sports Bar radio show on TalkSPORT, and you can find out more about his work with the station here.
He also commentates on Chelsea games for Chelsea TV, working with fellow IBT columnist David Chidgey,and is a prolific member of the Twitterverse.