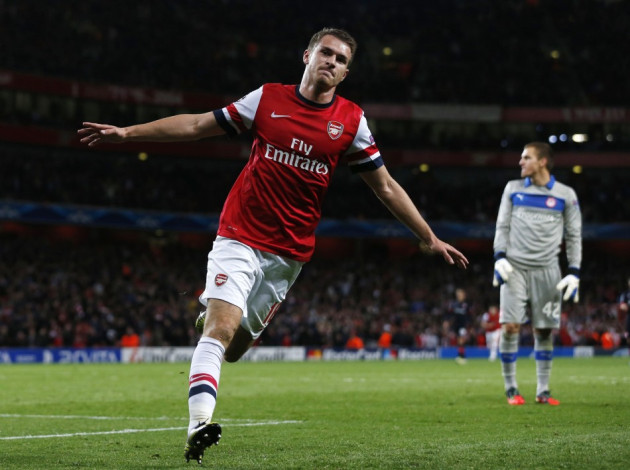 Arsenal midfielder Aaron Ramsey feels he is now back to his very best and has made a complete recovery, both physically and mentally, from the career-threatening injury he suffered three seasons ago.
The Welshman suffered a double fracture in his lower right leg after a challenge from Stoke City defender Ryan Shawcross in February 2010, which sidelined him for around nine months. The 21 year old failed to make a significant impact for the Gunners after his return but is now confident he has found his form again.
"I had a really bad injury and it takes a while to get back to your best. I'm feeling confident again and getting back to my old self, which got me here in the first place. Hopefully now this will kick me on again and I'll keep on improving throughout the season. I'm feeling good now, I'm happy and hopefully that's showing in my performances," ESPN quoted Ramsey as saying.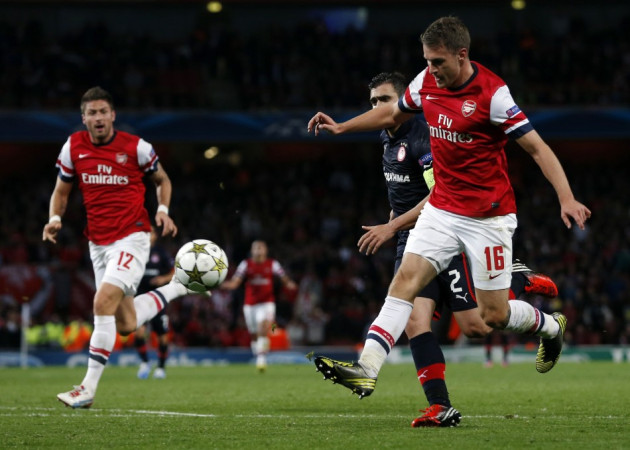 "[When you first come back] you're not sharp in your mind and you take a bit longer to think things through on the pitch which normally come naturally. Little things like that make such a big difference... that's how I felt during the second half of last year. I think I grew up a lot - it makes you stronger and it's getting over the mental side of it. As soon as you get past that, the confidence comes back and it's a thing of the past," the Arsenal Web site quoted the midfielder.
Ramsey came off the bench and scored in Arsenal's 3-1 win over Olympiakos in the Champions League game in midweek.
Vermaelen Happy with Champions League Start
Gunners captain Thomas Vermaelen praised the north London side's second-half display against Olympiakos and expressed his delight at the club's impressive start to the new Champions League season. After two successive wins, Arsenal are at the top of Group B, two points clear of second-placed Schalke.
"The second half was better, but in the first half we were a little bit sloppy in the passing, we lost a lot of balls. We started well, a high tempo - that was great, but afterwards we dropped a little," Goal.com quoted Vermaelen as saying.
"I think the most important thing is to win your home games in the Champions League, and we won an away game at Montpellier so we want to keep it going. It gives us a lot of confidence, getting six out of six [points]," the Belgian added.