Aaron Ramsey insists he has no regrets about choosing Arsenal over Manchester United five years ago.
The midfielder joined the Gunners from Cardiff City in 2008, despite the Red Devils' strong interest. The Wales international has struggled for game time with the north London side this season and has made only 12 Premier League starts so far. However, the player feels he made the right choice.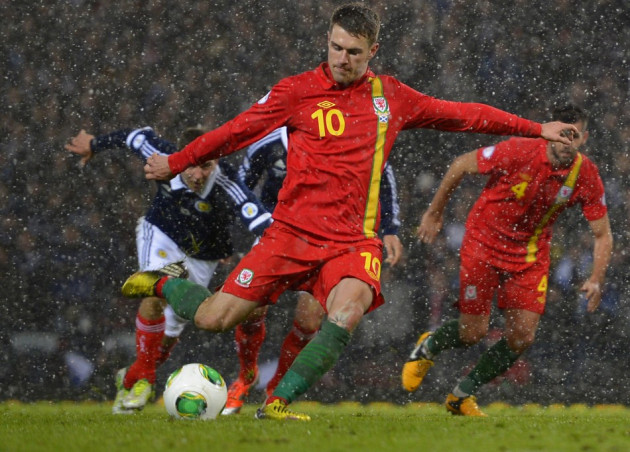 "The main factor in joining Arsenal was meeting with Arsene Wenger and to hear what his plans were for me. He has brought through so many youngsters and given them opportunities and turned them into great players. They flew me over there to have a meeting with him. I was overwhelmed. I was 17 and one of the best managers in the world wants to meet me face to face," Ramsey told the Mirror.
"It was definitely a hard choice to make at my age, but I've no regrets, I think I made the right choice. I felt more wanted at Arsenal, I felt the plan was better for me and they gave youngsters more opportunities. Manchester United also had a lot of midfielders at the time as well," the 22-year-old pointed out.
Ramsey signed a long-term deal with Arsenal in December, extending his contract until 2017. England internationals Jack Wilshere, Alex Oxlade-Chamberlain, Kieran Gibbs and Carl Jenkinson also did the same, while Theo Walcott extended his stay until 2015.
"It's great that all the British players chose to commit to the club and it's important to have that. It's good to have players in the same position as you, they can relate to you, it's going to be a vital thing in the club's history in the near future, I think. All the players are good and you can get on with them but it's nice to have a relationship with a player who has come through a similar situation to you and that they're British as well," Ramsey said.